Apple Cinnamon Breakfast Quinoa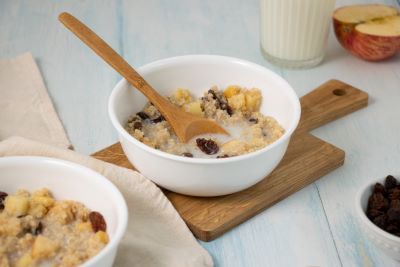 Recipe makes: 5 servings (3/4 cup per serving)
Preparation time: 15 to 20 minutes
Cook time: 10 minutes
Equipment: one set of measuring cups, one set of measuring spoons, one knife, one cutting board, one stove or hot plate, one non-stick frying pan, one rubber spatula, five serving bowls
What you need to make this recipe:
4 teaspoons butter
2 cups diced unpeeled apple
1 ½ cup skim milk
¼ cup raisins
4 teaspoons real maple syrup or honey
1 teaspoon ground cinnamon
1 teaspoon vanilla
3 cups cooked quinoa
How to make Apple Cinnamon Breakfast Quinoa:
Step 1: Turn the stove or hot plate on to medium heat. Put the non-stick frying pan on the stove or hotplate.
Step 2: Put the butter in the frying pan.
Step 3: When the butter is melted, put the apple into the frying pan.
Step 4: Cook the apple, stirring often with a rubber spatula, for about two minutes or until the apple starts to soften.
Step 5: Add the milk, raisins, maple syrup or honey, cinnamon, and vanilla to the frying pan. Stir, using the rubber spatula, to combine with the apple.
Step 6: Cook the apple mixture until bubbles appear around the edges of the frying pan.
Step 7: Add the cooked quinoa to the apple mixture. Cook, stirring often, until some of the milk has been absorbed and the mixture thickens (about 2 minutes).
Step 8: Take the frying pan off the stove or hotplate.
Step 9: Divide the quinoa evenly between five serving bowls. Top with more cinnamon if desired
Allergy information:
Contains milk.
May contain wheat and gluten.
About this recipe:
Quinoa is a gluten-free whole grain and is a source of fibre. Getting enough fibre in your diet can help keep your gut healthy.
Substitutions:
To make this recipe milk-free, use a milk alternative like unsweetened soy beverage.
To make this recipe wheat and gluten-free, use certified gluten-free quinoa.
Storage information:
Store the Apple Cinnamon Breakfast Quinoa in an airtight container in the fridge for 3 to 4 days or in the freezer for 1 to 2 months.
Nutrition Facts Table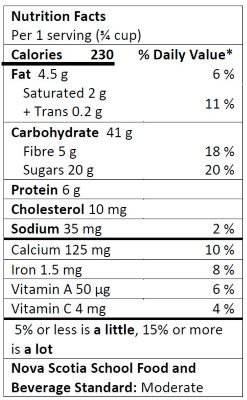 Print recipe card without photo
---