Chérif F. Matta, PhD, HDR, FInstP, FRSC (UK)
Professor
Dept. of Chemistry & Physics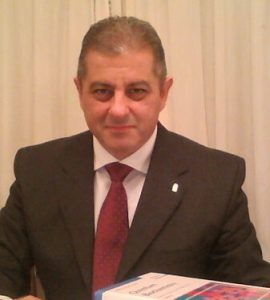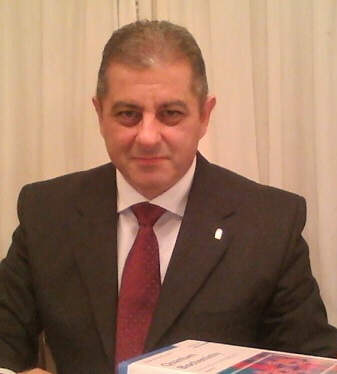 Office: Evaristus C208
Lab: Evaristus 140
Phone: +1 (902) 457-6142
Please also visit: http://www.cmatta.ca/
Broad Research Interests:
Theoretical, quantum, and computational (bio)chemistry.
Specific Research Topics:
Theory of chemical bonding, quantum mechanics, quantum chemistry, Bader's Quantum Theory of Atoms in Molecules (QTAIM), electron localization-delocalization matrices (LDMs), effects of intense external electromagnetic fields on reaction rates and molecular structure, electron density-derived molecular descriptors for drug-design, the Kernel Energy Method (KEM).
GoogleScholar Citation Metrics
Languages: Arabic, French, English, Spanish.
Education
Degrees
2009 Habilitation to Direct Research (HDR)
Université de Lorraine (Formerly, Henri-Poincaré) (France)
(HDR Dissertation Advisor: Prof. Claude Lecomte)
2002 Doctor of Philosophy (PhD)
McMaster University (Canada)
(PhD Supervisor: Prof. Richard F. W. Bader)
1987 Bachelor of Pharmaceutical Sciences (5 years Hon. Degree)
Alexandria University (Egypt)
Postdoctoral Training
2004-2006 Izaak Walton Killam Postdoctoral Fellow
Dalhousie University (Canada)
(PDF Supervisor: Prof. Russell J. Boyd)
2002-2004 Postdoctoral Fellow
University of Toronto (Canada)
(PDF Supervisor: Prof. John Polanyi, Nobel Laureate)
Graduate Diploma in Management
1994 Graduate Diploma in Health Services & Hospital Administration (Two years)
Sadat Academy, National Institute for Higher Management (Egypt)


Recognition
| | | |
| --- | --- | --- |
| Year | Distinction | Awarding Body |
| 2017 | The 2017 Award for Research Excellence | Mount Saint Vincent University, Canada. |
| 2016 | Election as Fellow of the Institute of Physics (FInstP) | Institute of Physics, UK. |
| 2016 | Lady Davis Fellow | Lady Davis Fellowship Trust, Israel. |
| 2016 | Laureate of the « La preuve par l'image » – Science Exposed Prize (National competition). | Natural Sciences and Engineering Council of Canada (NSERC) and Association francophone pour le savoir (Acfas), Québec. |
| 2010 | Election as Fellow of the Royal Society of Chemistry (FRSC) | Royal Society of Chemistry, UK |
| 2009 | MGMS Silver Jubilee Prize for 2009 | Molecular Graphics and Molecular Simulation Society (MGMS), UK |
| 2004 | John Charles Polanyi Prize in Chemistry for 2004 | Council of Ontario Universities (COU), The Government of Ontario, Canada |
| 2004­­­­–2006 | Izaak Walton Killam Fellow (Chemistry) | The Killam Trusts, Canada |
| 2005, 2003 | BioVision-Next Science Fellow "Bio-Leaders of Tomorrow" | American Association for the Advancement of Science (AAAS) & The World Life Science Forum |
| 2003–2004 | Chemistry Teaching Fellowship Award | University of Toronto, Canada |
| 2004, 2001 | IUCr Young Scientist Travel Awards | International Union of Crystallography (IUCr) |
| 2003 | Dept. of Chemistry Nominee for the University Distinguished Thesis Award | McMaster University, Canada |
| 2001 | Finalist: Schrödinger Prize | American Chemical Society and the Chemical Computing Group, Inc. |
| 2001 | Finalists: "Dean of Science Award for Academic Excellence in Graduate Work" | School of Graduate Studies, McMaster University |
| 2001 | Centennial Scholarships for Academic Excellence | McMaster University, Canada |