January 2018
Written by: Nick Voutour, Public Relations Co-op Student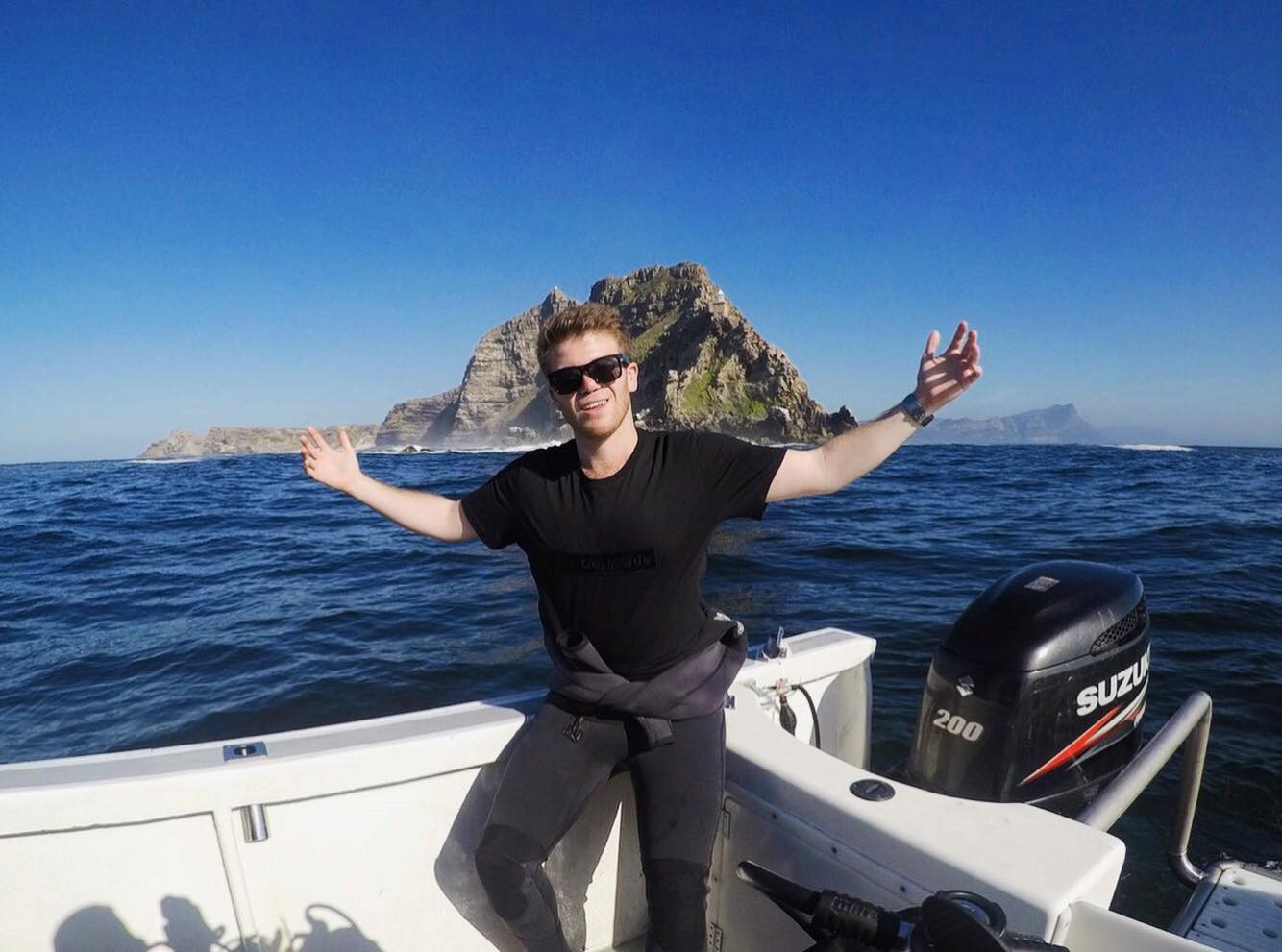 One of the most exciting aspects of Mount Saint Vincent University's (MSVU) Bachelor of Public Relations (BPR) program is the opportunity to take what you learn in the classroom and apply it to real world situations across three co-op work terms.

The possibility to grow professionally and academically through a co-op solidified my decision to come to the Mount. Little did I know, it would re-ignite a childhood passion I had let slip away.

As a kid, I was fascinated with our planet's oceans and the incredible creatures found beneath the waves. I remember recording wildlife documentaries on old VHS tapes and dreaming of one day becoming a marine biologist.

As my academic career progressed, the steps to get there didn't pan out.

In high school, I excelled in writing, English, and media studies which led me to study PR at the Mount. At the time, I didn't realize I could apply public relations skills to the marine science sector. That's the beauty of a PR degree it can be applied to almost any field of practice.

When the opportunity to work with Halifax-based Ocean Tracking Network (OTN) came up for my second work term, I jumped at it.

OTN is a marine research platform using electronic tags to track the movements of more than 140 commercially important and endangered species globally. The data OTN and its partners generate helps inform policy makers about the management of natural resources in a rapidly changing ocean environment.

During my second co-op, I became more confident in my practice while working in a field that excited me. I enhanced my written communication and graphic design skills, developed and implemented social media strategies, and assisted with promotion and media relations for a marine research and conservation collaboration. One of my favourite memories from this work term was venturing out on a shark tagging expedition off the coast of Nova Scotia with my team. While I fought sea sickness every step of the way, it was worth it to catch a glimpse of the rarely seen porbeagle shark, a threatened species in Nova Scotian waters.

It was my experience at OTN that opened my eyes to the possibilities of specialization as a PR practitioner. I delved deeper into marine research and conservation media. For my third co-op, I knew I wanted to gain new experiences in the oceans sector and it looked like my best odds for doing so were abroad.

I came in contact with the Save Our Seas Foundation (SOSF), an international NGO headquartered in Geneva, Switzerland. SOSF has funded hundreds of projects around the world focused on shark and ray conservation.

I reached out, landed the job, packed my bags, and moved to Europe for my third co-op.

SOSF was a dream come true. During my time there, I attended special events and conferences such as the Annual European Elasmobranch Association Meeting in Amsterdam, The Netherlands. Here, I networked with shark researchers and conservationists from all over the world. Learning about the lifelong efforts of these passionate individuals was inspiring.

Towards the end of my co-op, SOSF sent me to Cape Town, South Africa to spend a week working at (and learning about) their Shark Education Centre. The Centre works to connect the public to the marine environment through experiential education programs that focus on sharks and local marine ecosystems.

During this trip, I experienced the frontlines of environmental education and awareness, interacting with local students on snorkeling expeditions.

While in South Africa, I also made sure to set aside some time for fun. What better way to do that than go for a swim with some of the incredible marine creatures in the area. I don't really like the idea of cage-diving so opted to venture offshore with a local company called Shark Explorers. They took me free diving 40 km off the coast with blue sharks!

Getting up close and personal with these beautiful, curious animals on their turf was one of the more amazing experiences of my life. On the trip we also spotted plenty of bird life, fish, seals, and even a dead humpback whale!

Shark Video: https://www.youtube.com/watch?v=U783QLJlPY8&t=117s

Later on in my stay, I joined my colleague on a seal snorkeling expedition. We jumped into the surf and swam with cape fur seals, some of the most playful marine creatures you can come across in the Cape.

Seal Video: https://www.youtube.com/watch?v=BQONxQeSo6Q

Sadly, all good things have to come to an end. After my trip to Cape Town, I returned to Geneva to finish the last few weeks of my co-op program. Being my first time outside of North America, I made sure to spend every weekend I could travelling. By the end of my work term, I had visited eight European countries and successfully caught "the travel bug" (I can't wait to start planning my next adventure).

Europe Video: https://www.youtube.com/watch?v=tQrfq8RmThA&t=156s

As I approach the end of my degree, I feel more motivated than ever to pursue my career goals. This is largely because of the experiences and personal growth the Mount co-op program has provided me. I'm looking forward to using my skills in strategic communications to help secure conservation outcomes for the oceans.

In terms of advice I'd give to any younger students who may be reading this, I would say three things:

1.Believe in the power of networking. Your co-op advisors and professors will tell this is important and it is — so do it! The truth is, many exciting job opportunities are made through the connections you have.

2.Specialize. The BPR program is competitive, and so is real life. This is why the more you find your niche, the easier it becomes for you to communicate your value to a dream employer.

3.Enjoy it. It sounds cheesy, but university can be the most amazing years of your life. While the BPR can be a very busy program, make sure you take the time to develop relationships with your peers. It's those connections that will support you later down the road in your career.