Program Highlights
Public Policy Studies at the Mount is an interdisciplinary program that concentrates on Canadian public policy and global issues. Students enrolled in the program take a range of courses in both political science and economics and choose from a large pool of courses from a number of disciplines. Students complete the academic requirements with a senior seminar designed to integrate their new-found knowledge and provide them with broadened perspectives on important dimensions of public affairs.
The goals of the Public Policy Studies program are to provide students with sufficient coursework to ensure they develop capacities in such skill areas as critical thinking, policy analysis and communication. Through this, the program aims to prepare students for potential careers in public service and to be effective participants in democratic society.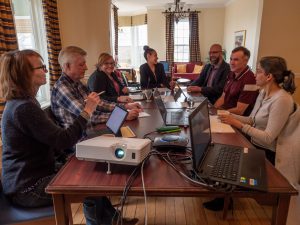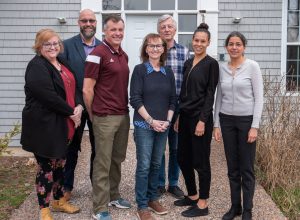 Faculty of PECS – Dr. Maya Eichler, Dr. Tammy Findlay, Dr. El Jones, Dr. Jeff MacLeod, Dr. Meredith Ralston, Dr. James Sawler, Dr. John Schellenberg (missing from photo – Dr. Nargess Kayhani)
Students in Action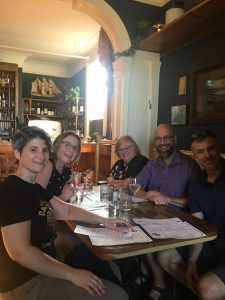 Kenya Thompson (MSVU BA 2020, Public Policy Studies, minor in Canadian Studies and English) meeting with former professors.  Kenya is currently completing her Doctorate in Political Science and Graduate Diploma in Justice System Administration at York University.
Career Options
Potential careers include:
Policy Analysis
Politics
Civil Service
Journalism
Foreign Affairs
Government Relations
Community Planning
Public Relations
Public Affairs Specialist in Corporations
Law
Business
Public Policy students are encouraged to apply for an Arts and Science Internship.  Please refer to the academic calendar for details.  Public Policy Studies is available as a Minor or Major option.
Though not required, Public Policy Studies majors may wish to organize their courses to focus on one of three specializations:  Global Issues, Public Policy and Political Processes and Social Justice and Policy.