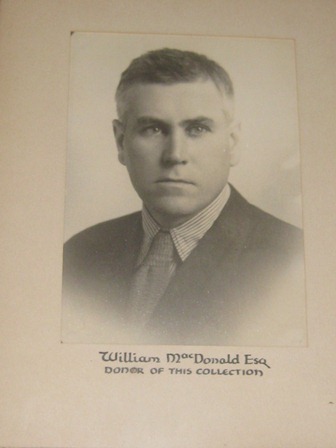 The MacDonald Collection
Introduction:

The MacDonald Collection, named for William MacDonald of Sydney, Nova Scotia, is the library's most important special collection. It consists of approximately 10,000 monographs of largely 19th and early 20th century literary works purchased by Mr. MacDonald and donated to Mount Saint Vincent.
Background:

William MacDonald's financial acumen provided him with sufficient income to collect books. His sister, Sister M. Aquinas, was a member of the Sisters of Charity of Halifax, and through her, he became interested in the library at Mount Saint Vincent College. He donated part of his Canadiana collection, only to have it reduced to ashes in the fire of January, 1951 which destroyed the Motherhouse of the Sisters of Charity, the Novitiate, Mount Saint Vincent College, and Mount Saint Vincent Academy. From 1951 until a few months before his death on September 21, 1959, MacDonald selected, packed and shipped cartons of books to Mount Saint Vincent where a specially appointed room in the north wing of the newly constructed Evaristus Hall had been designed by the librarian, Sister Francis de Sales, to shelve the collection. In 1989 a new space for the MacDonald Collection was set aside when the university library was moved into the E. Margaret Fulton Communications Centre.

Description:

In an article in the December 1973 issue of Insight, Sister Marie Agnes White, Professor Emeritus of English, described the type of books which interested Mr. MacDonald as a collector.
"He had a typically Celtic penchant for the dreamy, the romantic. The weird and the occult attracted him; tales of fairies, goblins, and ghosts he found irresistible. The Arabian Nights in various editions and translations with exquisite illustrations was a favourite buy. Fairy Tales of various ethnic origin, often beautifully illustrated, form another group. Queer books about queer people, – gamblers, thieves, and men and women of fantastic tastes and reputation he sprinkled among the serious tomes, with what one might suspect was a mischievous grin. The proportion of Scottish writers indicates a partiality for his 'ain folk', with Bobbie Burns leading in numerous editions (notably the Kilmarnock) and Sir Walter Scott a close second. James Hogg, the Ettrick Shepherd trails after them, and of course, Robert Louis Stevenson holds an honored place."
Among the noteworthy items in the collection are the fine bindings by Sangorski and Sutcliffe, Boynton of Bath and others, small presses, limited editions, many illustrated with pictures by Edmund Dulac, Arthur Rackham, Willy Pogany, and other early 20th century artists, and fore-edge paintings – when viewed in a normal position these volumes show a gilt edge which appears slightly discolored, but when the leaves are spread a delicately painted scene appears.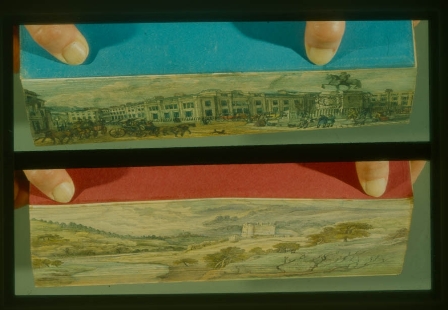 top: A fore-edge painting of Charing Cross, London in The Works of George Crabbe Vol.I, 1823
bottom: A fore-edge painting of Neidpath Castle, Scotland in Minstrelsy of the Scottish Border Vol.I, 1810.
Collection management:
The MacDonald Collection room is a quiet study space for students. The cabinets are locked and security cameras have been installed. A Librarian may remove books for researchers to examine in an area outside the room designated for that purpose.
Some duplicate volumes from the collection have been catalogued and shelved in the main library collection. No attempt has been made to acquire and add books to the MacDonald Collection. On occasion, reference books on the book arts and book illustrators are purchased if they seem likely to enhance our appreciation of the collection.

revised: Terry Paris. March 8, 2013.