News: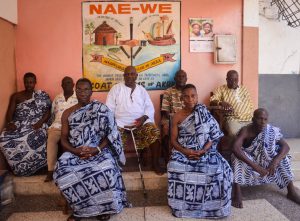 History grad's academic experience helps ensure smooth sailing in his oceanic career – A story on Flair Martin, who graduated in 2014 with a BA in history
Dr. Jonathan Roberts recently published Medicine for Hatred: Civil, Criminal, and Supernatural Justice at the Nae We Shrine Tribunal in Accra, Ghana. A 10 year project that involved four honours history students from MSVU and a scholar in Ghana.
Check out "Brexit & Wexit blend self-pity with sense of greatness" written in the Chronicle Herald by Dr. Ken Dewar, a emeritus professor in the Mount's History Department.
Feeling hungry? Here are some foods from the Paleolithic era, part of our weekly feast in HIST 2255 – The History of Food!
Mary Owusu, MSVU instructor for the courses of Story of Modern Africa and African Civilizations, has won the prestigious Barbara Harlow Prize for Excellence in Graduate Research.
Dr. Arthur McCalla presented the Sister Francis D'Assisi award to Elise Blacker at the 2019 Academic Award Reception. The D'Assisi prize is given to the graduating history Major or Honours student judged by the faculty of the Department of History to be the most outstanding of her class.
Three students from the MSVU Department of History presented papers at the Atlantic Universities Undergraduate History/Classics Conference at the University of New Brunswick from March 1-3, 2019, thanks to generous funding from the Dean of Arts and Sciences and the Department of History. The papers presented were:
Alishia Berthelet, Mount Saint Vincent University, "'Oh God that you will give me the strength to live a good Catholic girls life': Love and Learning at Mount Saint Vincent Academy, 1926-1927"
Ashley MacKinnon, Mount Saint Vincent University, "Talk this Way: The Perception of Patois & Linguistic Diversity during the French Revolution"
Cora Lynn Munroe, Mount Saint Vincent University, "First Wave Feminism and the Bible: Elizabeth Cady Stanton
Kenneth Dewar wrote "Liberalism, Social Democracy, and Tom Kent", which was published in the Journal of Canadian Studies (Volume 53, Winter 2019).
The MSVU History Department Curling team, featuring Arthur McCalla as skip, Becca Babcock as vice, and Jonathan Roberts as lead, won the "Best Curlers in History" bonspiel at the Mayflower Curling Club on February 9th, 2019.
Women on the Waterfront Statues unveiled – featuring Dr. Janet Guildford, retired faculty member of the MSVU History Department, and chair of the Halifax Women's History Society.