November 2017
Written by: Lisa MacNeil, Coordinator, Co-operative Education
In the summer of 2015, business co-op student Connor Hirtle was involved in an accident that left him paralyzed from the chest down. This meant he was no longer able to do many of the things we take for granted. What Connor didn't lose was his determination and willpower to live his best life, despite his physical limitations. "You always have to have hope. I will live by these words until the day I die or when I walk out of this chair."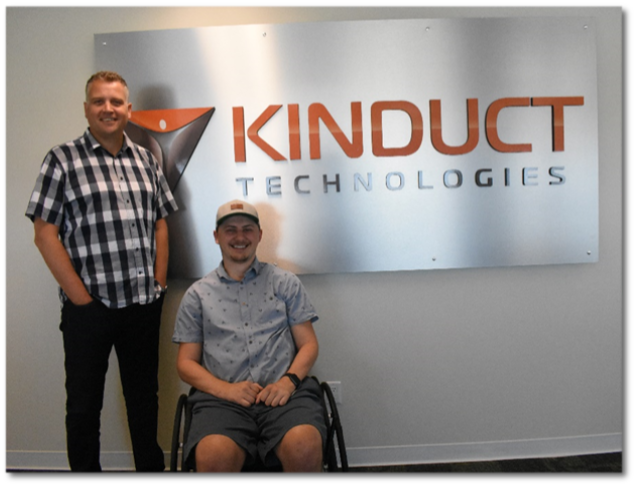 After countless hours spent in the hospital and in rehab, Connor decided to continue his studies in the fall of 2016. He also chose to continue his co-op journey and completed his second work term with Kinduct Technologies this past summer. Kinduct is a world leading data and analytics software provider for professional and elite sport organizations, tactical and defense departments, and health and wellness institutions. Some of their "major league" clients include Orlando Magic and the LA Dodgers.

As a Junior Marketing Consultant, Connor developed content for print and online materials, conducted research, worked with the product development team and compiled a case study to showcase one of Kinduct's clients. When asked what he liked most about working for Kinduct, his answer came with a smile. "The team of people are amazing. Everyone is so accommodating and they made the transition back to the workplace easy."

It is evident that the team at Kinduct values having students like Connor in the office. "The company is growing exponentially," says Director of Marketing & Communications, Sean Williams. "We have moved offices twice over the last few years to accommodate our team. There is no shortage of work to be done and having Connor work with us was beneficial. He is
easy-going, hard-working and has a sports background so he gets the space."

When asked why companies should be hiring co-op students, Sean believes the answer lies in the future. "Having co-op students feeds our employment funnel. It's potentially the future of the company. Students bring a different way of thinking and companies can benefit from new ideas, whether it be product innovation, new ways of doing business, market research or identifying new market opportunities."

In addition to his academic studies, Connor remains busy with his fundraising campaign, Hope for Hirtle. Most recently, Connor has been researching the possibility of being involved in a research trial at the Miami Project to Cure Paralysis. Connor Hirtle is truly a force to be reckoned with. His positive spirit and determination shines through in his work ethic. If you are interested in donating to Hope for Hirtle, visit facebook.com/HopeforHirtle.