New! FSL Bursaries!
We are proud to announce that we have awarded seven FSL bursaries for the 2023-24 academic year! Congratulations to the recipients! Take a look at their testimonials!
We have twelve $3000 bursaries to give out for the 2024-25 academic year!
Eligible students must take 5 courses in French at MSVU. French must not be your first language. For more information, click here or  click on the FSL Bursary Program tab below.


Étudiant.e.s du cours de phonétique (FREN 3337)
Les 120 ans de l'Alliance française
Professeurs, étudiants et amis du département ont fêté les 120 ans de l'Alliance française lors d'une soirée remplie de musique, de discours et de bonnes bouchées!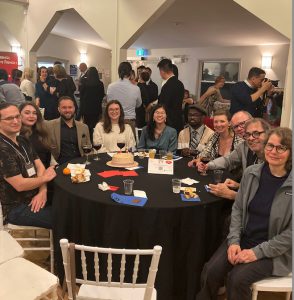 El Dìa De Los Muertos – A beautiful celebration !
The celebration of Mexican origin the Day of the Dead was hosted by Ada Elvi and Wenceslao Amezcua. Explanations, costumes, altar, bread for the dead and dance : it was a colorful event!
Muchas Gracias, Ada y Wenceslao!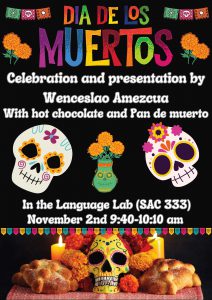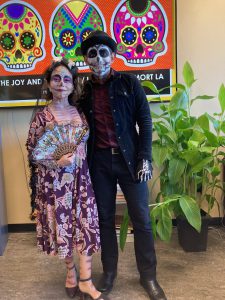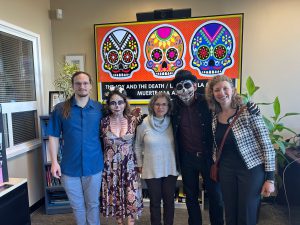 Prix Fenêtre sur la Francophonie
Established by faculty members from the Department of Modern Languages, the Fenêtre sur la
Francophonie award provides funding towards a one-week trip to France (or French
territory) to participate in a language and cultural program recommended and approved by
the Department. This award is presented annually to a student specializing in French who
achieves outstanding results in French courses and who has demonstrated great interest
towards French language and culture. In the summer of 2022,  Nya Urciuoli (below) went to Angers, France.
2022-2023 Winner:  Alyssa Evans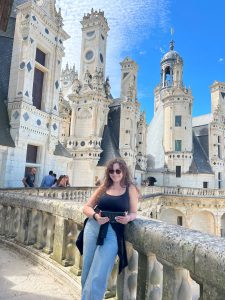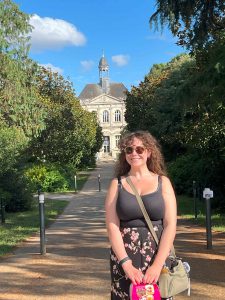 2021-2022 Winner: Nya Urciuoli


MODL Awards 2022 – 2023 Congratulations to all!
Sister Rose Celestine Prize: Chloë MacAulay
Prix de l'Alliance française : Natalie Freeman
Prix de l'Ambassadeur de Suisse : Nya Urciuoli
Danny Weston Memorial Prize: Martine Spearns
Language Lab Prize: Jonique Higgs
MODL French Prize: Cassidy Norse, Olivia Bazot, Erin Moulton
Practical French Prize: Manuel Aguilar Cetina, Evangéline Francis Dahms, Kristyn Pollard, Daniil Zhelezniak, Gideon de Groodt
Prix Fenêtre sur la francophonie : Alyssa Evans
MODL Spanish Prize: Alison Umlah, Kevin Hudon
Spanish Embassy Prize: Corinne Gilroy
François-Xavier Eygun: Retirement
Dr. François-Xavier Eygun has retired in July 2023 after over 35 years in the Modern Languages Department at Mount Saint Vincent University. He is a full professor and has served as department chair on many occasions and of course on many university committees. He comes from France but has lived in Montreal, Calgary, and Winnipeg.
François-Xavier has always been popular with students for his soft-spoken manner, his sense of humour and his intimate knowledge of French literature and culture.  As for the soft-spoken manner, his lecturing voice is quiet, and the result is that students tune in and give him their full attention!
As a colleague he is good company as well, quick on the repartee, jovial, and funny. He especially pays attention to the history of the department, keeping up with other colleagues who have moved on from the Mount.
François-Xavier is a poet and an intense reader of all sorts of books. He himself has published one scholarly book on the nineteenth century French novelist and poet Barbey d'Aurevilly, along with many scholarly articles. He has published two books of poetry which largely emerge from his years in Manitoba as a PhD student and teacher, and he made his mark upon the Franco-Manitoban literary scene.
Although his principal residence has been for many years in English-speaking places, his home and family life remain thoroughly French and Francois-Xavier keeps huge ties with his country of origin. Indeed, he is fixing up a residence in Touraine[1] near the home where he grew up and he will be surely spending lots of time there in the years to come.
We will miss François-Xavier's presence in the department, but we hope to carry on the friendship in the years to come.
[1] Birthplace of another scholarly epicurean, François Rabelais!
Chinese Mid-Autumn Festival 2021
On September 21, we celebrated the traditional Mid-Autumn Festival. A beautiful event!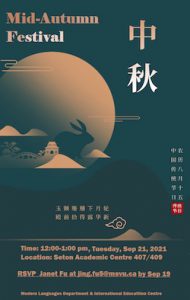 Dr. Janet Fu (MODL Department) and Mahx Mason (International Office) welcomed everyone and Dr. Fu explained the origins of the celebration.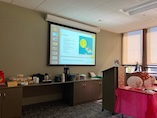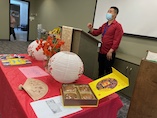 Students, Faculty and Staff enjoyed activities and mooncakes together.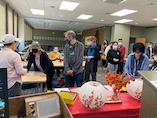 A colourful celebration!