Meet Dr. Juliette Valcke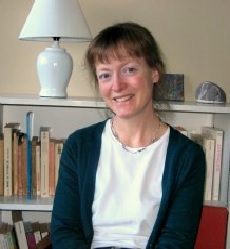 When Dr. Juliette Valcke came to teach in the Mount's Modern Languages department in 2010, there was a notable change for her.

"When I taught in Montreal, all of my students were familiar with the French language and culture. At the Mount, most of our students are English-speaking, and while this first presents itself as a challenge, I have found that our students are incredibly dedicated, curious, and open to other cultures – it creates a very special atmosphere."
Dr. Valcke, Chair of the Modern Languages department, is a valued member of the Mount's faculty. She teaches courses that span basic lessons in French language, advanced literature and culture. Thanks to the Mount's small class sizes and the breadth of courses Dr. Valcke teaches, she is able to get to know her students and their interests very well, and in turn, they get to know hers.
"I often try to create links between my research and the topics I teach," says Dr. Valcke. "The running joke with my students is that when I say I am going to talk about one of my 'chouchous' – one of my special ones – I am likely incorporating my research into the class."
---
"Being able to link my research to my teaching enhances the whole experience, for myself and my students – it's more alive and spontaneous."
— Dr. Juliette Valcke
---
Dr. Valcke (pictured in the centre of the photo below) holds a Bachelor of Arts degree in French Studies (Université de Sherbrooke), a Certificate in Italian Studies (Università delgi di Firenze), as well as both a Master of Arts and a PhD in Medieval Studies (Université de Montréal). When she came to the Mount, she resumed her research exploring the use of language as identity tools in theatre and literature. A focal point of her PhD and subsequent studies has been the "société joyeuse" (fool society) of the Mère Folle de Dijon, who undertook theatrical activities from the 15th to 17th century in Dijon, in a bilingual repertoire of French and Burgundian. Over the years, Dr. Valcke has explored the use and impacts of dialects in literature and has published and presented on her findings across various platforms, including a critical edition of the Mère Folle de Dijon's work published in 2012.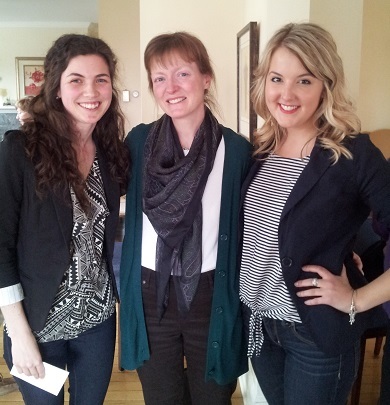 More recently, she is tackling the question of medieval influences on francophone Canadian literature, primarily through the works of Georgette LeBlanc.
"There is a striking resemblance between Acadian culture and language and medieval traditions," Dr. Valcke explains. "LeBlanc's use of language, the poetic form of her texts, and her use of fantasy all show similarities with forms nearly a thousand years old."
Dr. Valcke says LeBlanc's work is considered to be among the most innovative in current Acadian literature.
Dr. Valcke is in the process of publishing her second book, Le sacrifice et le don. Représentations dans la littérature et les arts francophones – a collaboration with Dr. Irène Chassaing of the University of Manitoba. This book extends from a conference Dr. Valcke organized with colleagues in 2014, and consists of 24 articles from a variety of authors.
"Being able to link my research to my teaching enhances the whole experience, for myself and my students – it's more alive and spontaneous," she says. "Teaching and doing my research simultaneously creates a wonderful balance in my life. It is rewarding work, and I'm truly spoiled to have such a beautiful job."