Mount Saint Vincent University is excited to begin to gradually welcome students, faculty and staff back to campus over the coming months. We remain committed to ensuring the safety of our university community throughout this transition, and will have a number of important protective measures in place, including: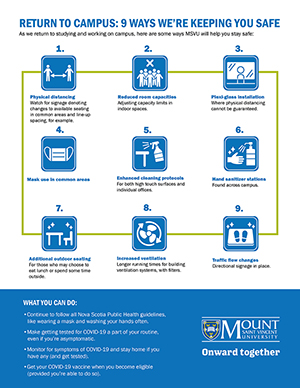 physical distancing (with floor markers),
reduced room capacities
plexi-glass installation where physical distancing cannot be guaranteed,
mask use in common areas,
enhanced daily cleaning protocols for both high touch surfaces and individual offices,
hand sanitizer placement across campus,
traffic flow changes within buildings, with directional signage,
increased use of ventilation systems (i.e. longer running times), with filters, and
health self-assessments before coming on campus. While completion of an online daily health assessment form will no longer be required once you have returned to regular work on campus, it is expected that members of the MSVU community will not attend campus if they have any symptoms of COVID-19.
As we return to campus, it will be critical that we all continue to follow Public Health guidelines to help keep one another safe. Of course, should the pandemic situation or Public Health directives change at any point in Nova Scotia, we will alter our plan accordingly. Download infographic PDF »
Accessing campus: As we begin our gradual return, learn more about safely accessing campus.
Fall 2021 update: Starting with the fall 2021 semester, we are planning to offer a significant increase in on-campus learning opportunities. Read the full update. 
Return to Campus Plan: The University's Return to Campus Plan will guide us in our safe return. It is based on a framework jointly prepared by Nova Scotia's universities and approved by NS Public Health. It is both a flexible and living plan; we will make adjustments as needed and will keep our community informed of any changes.
Student Services: All student services have successfully transitioned to virtual service, so please get in touch with an academic advisor, counsellor, Accessibility Services, etc.  should you need any support. You can also check out our A-Z list online. Another great resource is the new online mental health tools available to you 24/7.
Online learning support: Whether you're brand new to online learning, or you've taken online courses in the past, we're here to help. Check out our Online Support for Students webpage. You can also learn more about the different online course delivery modes.
Travel: Find information on travel in and out of Nova Scotia.