Dr. Brook Taylor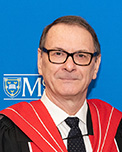 B.A., M.A., Ph.D., University of Toronto
Dr. Brook Taylor was appointed Interim Vice-President Academic and Provost in April 2021. Prior to this, he served as Dean of Arts and science for 10 years, ending in 2019.
Dr. Taylor first joined MSVU in 1986, teaching in the Department of History. His primary research interests relate to Canadian intellectual history, historical methodology, and the history of the Maritime region. In 1995, Dr. Taylor received the MSVU Alumnae Teaching Award. Between 1996 and 1998 and again between 2001 and 2003, he was a Visiting Foreign Professor in the Graduate Department of Area Studies, Tsukuba University, Japan. In the fall of 2020, he received Professor Emeritus status at the University.
Over the course of his MSVU career, Dr. Taylor has been engaged in all aspects of the University, including searches, appointments, departmental reviews, strategic planning and implementation, budget management, faculty relations, and student matters.
Dr. Taylor's books are A Camera on the Banks: Frederick William Wallace and the Fishermen of Nova Scotia (2006), Canadian History: A Reader's Guide, Volume 1 (1994), and Promoters, Patriots, and Partisans: Historiography in Nineteenth-Century English Canada (1989).
If you wish to speak with Dr. Taylor, please contact:
Tracy MacKenzie, Executive Assistant
902.457.6404
tracy.mackenzie@msvu.ca
---
Dr. Lori Francis will be joining MSVU as Vice-President Academic and Provost as of August 1, 2023.