A message from President Dr. Mary Bluechardt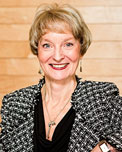 The process of developing a new strategic plan for MSVU continues to progress.
Late last spring, a new Strategic Planning Working Group was formed, including student, faculty, staff and Board of Governors representatives. With input from this group, an approach was developed to guide a thorough consultation of our University community.


Now, as we seek to identify our shared institutional priorities, we are initiating a thoughtful consultation with an expansive list of constituent audiences.

Based on the input gathered, our new strategic plan will articulate our way forward. It will be a statement about the unique contributions our University can and will make within an evolving context. The needs of our students, employees, communities and world are changing – and we need to be prepared to influence and respond.
As well, as we begin the process of looking ahead to our next strategic plan, it's also important we consider the many accomplishments of our previous plan. I invite you to read more in our Summary of Strategic Plan Successes.


Please continue to visit this webpage for updates on the strategic planning process.