Dr. Mary Bluechardt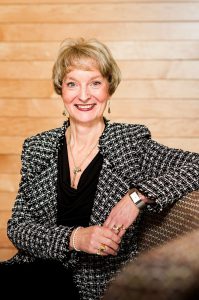 Dr. Mary Bluechardt joined Mount Saint Vincent University as its 13th President and Vice-Chancellor on July 1, 2017 and leads a community of over 600 faculty and staff in delivering an excellent academic experience to more than 4,000 students from more than 70 countries around the world.
Dr. Bluechardt is an experienced academic and administrative leader, with more than 25 years in the post-secondary sector. Before joining MSVU, she was the Vice-President (Grenfell Campus), Memorial University of Newfoundland, located in Corner Brook, Newfoundland and Labrador. She was first appointed to this role in 2011 and re-appointed in 2016. As Vice-President of Grenfell Campus, Dr. Bluechardt was the senior administrator with oversight of the campus and engaged in University-wide endeavours as a member of Memorial's senior management team.
Dr. Bluechardt served as Dean of the Faculty of Health Sciences at the University of Ontario Institute of Technology and also Dean of the School of Human Kinetics and Recreation at Memorial University. She was a professor at the University of Regina in Saskatchewan for 17 years, in both the faculties of Kinesiology and Health Studies, and Education, with expertise in Adapted Physical Activity. She also worked with Special Olympics Canada for five years as National Director of Coach Development. Dr. Bluechardt holds a PhD in Exercise Science and Health Promotion from the University of Toronto (Faculty of Medicine – Department of Community Health), as well as a Bachelor of Physical and Health Education and a Master of Science in Coaching both from Lakehead University in Thunder Bay, Ontario.
Since joining MSVU, Dr. Bluechardt has demonstrated her commitment to inclusion, mentorship and accessible education. Under her leadership, the University appointed its first Special Advisor to the President on Aboriginal Affairs, established a new empowerment opportunity for young women to mark the UN's International Day of the Girl Child, and is developing a new physical literacy program for young children (called PACE), among other initiatives.
Born and raised in Sarnia, Ontario, Dr. Bluechardt is an active community leader, having been a volunteer with Special Olympics Canada for many years, and in November 2020 was elected Vice-Chair of the Special Olympics Nova Scotia Board of Directors. She is also a Board of Directors member for Universities Canada (and serves on the association's International Committee), Research Nova Scotia, Canadian Sport for Life, and Physical Literacy for Life, as well as a member of the International Women's Forum (Atlantic Chapter), Council of Nova Scotia University Presidents (CONSUP), and co-chair of the Social Equity Working Group for the Province of Nova Scotia.
Dr. Bluechardt has been the recipient of several awards, including the YWCA Women of Distinction Award for Health and Wellness; University of Regina Alumni Award of Excellence in Public Service; and Canadian Association for the Advancement of Women in Sport Award for the Most Influential Women in Sport and Physical Activity. She was also the first female appointment to the expert group responsible for Canada's Long Term Athlete Development Framework.
If you wish to speak with Dr. Bluechardt, please contact Pat Comeau, Executive Assistant:
902.457.6131
pat.comeau@msvu.ca