Ramona Lumpkin, CM, PhD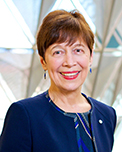 Ramona Lumpkin, CM, PhD, is a respected leader and university administrator. She was President and Vice-Chancellor of Mount Saint Vincent University from 2010 to 2017 before retiring. In 2019, she was named President Emerita.
Dr. Lumpkin's contributions included: enhancing student services and student retention; developing programs reflecting MSVU's commitment to social justice; ensuring MSVU's continued contribution to the advancement of women; supporting a culture of equity, diversity, inclusion and respect on campus; and maintaining MSVU's fiscal health through successful fundraising.
She led the largest fundraising campaign in the University's history, resulting in the opening of the first building on a Canadian university campus dedicated to the accomplishments of women: the Margaret Norrie McCain Centre for Teaching Learning and Research.
In consultation with Aboriginal communities and advisory committee members, Dr. Lumpkin created MSVU's first Aboriginal strategy, opened the Aboriginal Student Centre and hired an Aboriginal Student Services Coordinator.
A member of the Order of Canada (2014), Dr. Lumpkin has also been the recipient of a Progress Women of Excellence Award (2013) and been named to the annual list of Atlantic Canada's Top 50 CEOs (Atlantic Business Magazine) three times. In 2017, she was named a recipient of the Governor General's Awards in Commemoration of the Persons Case in recognition of her outstanding contributions to the goal of equality for women and girls in Canada.
If you wish to reach the Office of the President, please contact Pat Comeau at:
902.457.6131