Latest University messages
MSVU vaccine requirement Process Update – A message from the Interim President & Vice-Chancellor (September 3, 2021)
A message from Ramona Lumpkin, CM, PhD, Interim President and Vice-Chancellor, Mount Saint Vincent University
First, a sincere thank you for your support of MSVU's vaccine requirement, as announced last week. The response has been overwhelmingly positive – I've heard from many individuals grateful for this additional protection as they return to learning, working and living at MSVU during the pandemic.
I am pleased to share an update on the system we've developed to support this protocol.
In short, there are three forms in this system – you need only complete those that apply to you. These forms will be available starting Wednesday, September 8 and you are asked to complete those relevant to you by September 15.
A reminder that all those coming on campus must be fully vaccinated against COVID-19 by October 13 or undergo regular testing. Those who are exempt from the vaccination requirement (for medical, religious or cultural reasons) will continue to submit regular proof of negative rapid COVID-19 test results throughout the semester.
For more information about the forms, and information for online students and visitors, check out the full news story.
New vaccine requirement at MSVU – A message from the Interim President & Vice-Chancellor (August 23, 2021)
Dear MSVU students, faculty and staff,
As the start of the fall semester nears and the COVID-19 situation continues to evolve, so too do our safety measures at MSVU.
I am writing today to share that MSVU will be requiring all students, faculty and staff to be fully vaccinated against COVID-19 as soon as possible and by October 13 at the latest. Proof of vaccination will be required. Those who choose not to be vaccinated for medical, religious or cultural reasons must be tested for COVID-19 twice a week.
There is much planning still being undertaken to operationalize this protocol. We want to ensure that personal information is protected. As well, we have asked Public Health for guidance on whether those who have received vaccinations abroad that are not currently approved by Health Canada can or should be vaccinated with Health Canada approved vaccines upon arrival in the country. We will provide more information on that matter – and its implications at MSVU – as soon as possible. Please watch your MSVU email account for updates.
Students are encouraged to get vaccinated in your home community before coming to campus if at all possible. That said, if you are travelling to Halifax to study and need a vaccine when you arrive, you can get one or both doses here. COVID-19 vaccine appointments can be booked through Nova Scotia Public Health. If you have a Nova Scotia Health Card, you can book online. If you don't have an NS Health Card, you can make a vaccine appointment by calling 1-833-797-7772 (you need to be in Canada to call and the call must be made from a Canadian telephone number). If you are currently residing elsewhere in Canada, you can get more information about local vaccination clinics here.
Additionally, an on-campus vaccination clinic for students, faculty and staff will be held on Thursday, August 26 from 1 p.m. to 3 p.m. (more information for students / faculty and staff – log-in required).
With a pandemic fourth wave gaining traction across the country at the same time as we seek to safely return to on-campus learning, working, and student life opportunities, a vaccine mandate is an important step. The evidence is clear: getting vaccinated against COVID-19 is the best way to protect yourself and others, and is our surest way out of this pandemic.
Of course, we will also continue to implement a number of other important pandemic safety measures on campus, including reduced classroom capacities, enhanced cleaning protocols, improved ventilation and mask use in common areas. We are also offering rapid COVID-19 testing on-campus for all students, faculty and staff. Regardless of your vaccination status, regular testing is still strongly recommended by Public Health (more information for students / faculty and staff – log-in required).
While aspects of this semester will look unlike anything we've experienced before, I have no doubt it will still be a rewarding time. Thank you to all members of our community who continue to work to keep one another safe, both by following Public Health advice and adhering to university protocols.
Students with questions about MSVU's COVID-19 response are encouraged to contact the Office of Student Experience at ose@msvu.ca. Faculty and staff with questions are encouraged to speak to their dean, chair, director or supervisor, or contact human.resources@msvu.ca.
I look forward to seeing you soon at our cherished university home on the hill.
Onward together,
Ramona Lumpkin, CM, PhD
Interim Vice-President and Chancellor
---
Welcoming you to campus: A message from the Interim AVP Student Experience (June 30, 2021)
Dear MSVU students,
We are excited to welcome you to campus soon!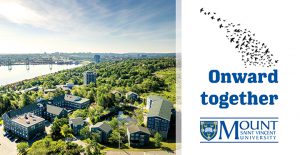 With COVID-19 case numbers dropping and vaccine rates rising in Nova Scotia, we're getting set for your return to campus. In consultation with Nova Scotia Public Health, we've prepared a plan to support a safe return to in-person classrooms and student services this September.
Academics
The majority of courses will return to in-person on-campus delivery this fall, with an increase in online course options too for those who may need or choose to study online. If you need help registering for courses, please contact the MSVU Registrar's Office at registration@msvu.ca, or if you need help selecting courses please contact the Centre for Academic Advising and Student Success at advising@msvu.ca.
Student Services
Between now and September, we are taking a phased approach to returning to campus. The library, Aboriginal Student Centre, gym and bookstore are now open by appointment – make a booking here. Throughout July, you will continue to access most services online, but starting August 4, student services will be available for in-person appointments, as well as continued virtual appointments. Appointments will be required initially. Please visit the individual Student Services websites to make an appointment and be sure to indicate your preferred appointment format. Note that, for this summer, you'll need to complete an online health assessment form on each day you visit campus – we'll let you know if that changes.
Residence
Residence will be open this fall! We're planning for an increased Residence capacity this year (over last year) with all single rooms in traditional areas. We have limited spaces remaining, so if you haven't already applied, please do so soon. Apply here »
Orientation
We're working with the MSVU Students' Union to plan an awesome orientation program for students who are new to MSVU, as well as returning students who have yet to be on campus. Everything kicks off on July 15 with the release of the full schedule on our orientation website and the launch of Mount 101, your early online orientation to all things MSVU!
If you're new to MSVU or are a returning student who has yet to be on campus, your Mount Mentors are here to answer all your questions about MSVU and the upcoming year. You can contact them by emailing mount.mentor@msvu.ca.
Your health and safety
We've implemented a number of measures to help keep you safe as you return to campus, including:
physical distancing (with floor markers),
reduced room capacities,
mask use in common areas, including classrooms*
plexi-glass installation where physical distancing cannot be guaranteed,
enhanced daily cleaning protocols for both high touch surfaces and individual offices,
hand sanitizer placement across campus,
traffic flow changes within buildings, with directional signage,
increased use of ventilation systems (i.e. longer running times), with filters, and
health self-assessments before coming on campus. Please stay home if you have any symptoms of COVID-19 and seek Public Health guidance.
*A note about masks: At this point, we anticipate masks being required in all common areas on campus this fall, including classrooms. Please bring a mask to campus; masks will be available for those who need them at the Security Desk in Assisi Hall.
Of course, these protocols may evolve as Public Health directives change. We'll keep you posted.
Need a vaccine?
Students are strongly encouraged to get vaccinated against COVID-19 before returning to campus. If you're not able to get a vaccine (either both doses or a second dose) before coming to MSVU, you will be able to get vaccinated in Nova Scotia. At present:
Students who have an MSI card can:
Book online for an NS-based vaccination clinic
OR
Book an appointment at a local drive through vaccination clinic
Students who do not have a health card can:
Call 1-833-797-7772 (7 a.m. to 10 p.m. ADT, 7 days a week) to book an appointment for their vaccine.
Travelling to Nova Scotia
At this point, all international travelers coming to Canada are required to quarantine for 14 days. The first phase of this is 3 days in a federal quarantine hotel in Vancouver, Calgary, Toronto or Montreal while awaiting a negative test result and then 11 additional days at our hotel partner in Halifax once the arrival test comes back negative.
Regulations for international travelers to Canada/Nova Scotia are changing significantly on July 5, 2021. The International Education Centre will hold a webinar to help you understand these new travel regulations on July 9 at 9:30 a.m. (ADT). Please register here. It is essential that students traveling to Canada to study attend a Travel to Canada webinar to review requirements and the entry process. Additional sessions will be held on July 22 and August 6 at 9:30 a.m. (ADT). Please register here.
Have questions?
We're here to support you. Please email your questions to OSE@msvu.ca and we'll get back to you ASAP.
The pandemic journey has been a long one. We couldn't be more delighted to be moving onward together!
June Lumsden
Interim Associate Vice-President, Student Experience
Mount Saint Vincent University
---
Registration continuing as scheduled for Fall 2021 / Winter 2022 (April 27, 2021)
A message from Paul Cantelo, University Registrar
I'm writing to confirm that the 2021-2022 Fall/Winter academic timetable will be available for viewing as planned on May 4, 2021, and registration will start as scheduled on May 11 for undergraduate students who have 7.00 units of course work or less required to complete their credential (certificate, diploma or degree).  All other students will be able to register on May 12.
Though our pandemic situation has changed in Nova Scotia recently with the onset of a third wave, we remain optimistic about Fall 2021. September is four months away and vaccination programs will continue to roll-out this spring/summer with the majority of the population to be vaccinated by fall. Of course, we will continue to follow the guidance of Nova Scotia Public Health officials and be prepared to respond as needed.
The 2021-2022 Fall/Winter academic timetable will reflect a shift to a majority of courses taking place on-campus, with a planned increase in online course options for those who need or choose to continue their studies remotely. The format for each course will be noted in the timetable. Find more information on online course formats (provided by the Teaching and Learning Centre and Online Learning). We will work directly with any students nearing the end of their credential (certificate, diploma or degree) to ensure timely completion. Anyone with a related concern should be speak to their academic advisor or department chair as soon as possible.
In response to current COVID-19 circumstances in NS, three on-campus courses in Summer Session I (starting in early May) were moved online. Any student that was impacted by this change has been contacted. A very limited number of classes/labs are able to continue safely on campus during Summer Session I, with COVID-specific safety protocols in place.
If you have any questions about course registration or important dates, please email registration@msvu.ca.
---
Impacts of new COVID-19 restrictions on MSVU (April 22, 2021)
On April 22, 2021, new temporary restrictions were announced by Nova Scotia Public Health in response to increasing numbers of COVID-19 cases in the province. Learn how these latest restrictions have impacted MSVU operations: Read the full message.
---
A message from the MSVU Registrar's Office (April 13, 2021)
As a result of the ongoing COVID-19 pandemic, all students registered in Winter 2021 term courses have been given the option of requesting "P" (Pass) grades subject to the following conditions:
Undergraduate students will have the choice to accept their final course grade or request a grade of "Pass" (for grades of "D" or higher) for each of their courses in the Winter 2021 term.
Graduate students will have the choice to accept their final course grade or request a grade of "Pass" (for grades of "B-" or higher) for each of their courses in the Winter 2021 term.
For important information, deadlines and conditions regarding the Pass/Fail option, please visit the Registrar's Office website.
The grading confirmation request form will be made available from 9:00 am ADT on Monday, May 3 until 4:30 pm ADT on Friday, May 14, 2021. A reminder and a link to the form will be sent out at the end of April.
You are asked to wait until all your grades are recorded before submitting your request to use the "Pass" grading option.
Note that it is up to you as the student to directly make the request for a "Pass" grade. This request should not be made through your instructor.
Once a request for a grade of "P" has been submitted, the decision is final. Once grades have been recorded on an official academic transcript they cannot be changed.
If you have any questions or require additional assistance, check our website and join us for our webinar To 'P' or not to 'P' on Wednesday, April 28th, at 3 pm ADT. International students will be able to join a separate webinar at 9:00 am ADT on Wednesday, April 28th. Reminders and links to the webinars will be sent out shortly.
You can also contact the Registrar's Office at Grades@msvu.ca. For course-specific grading matters, please contact your course instructor.
---
Fall 2021 Update (March 4, 2021)
A message from Dr. Julie McMullin, Vice-President Academic & Provost
I am writing today to provide an update on planning for the 2021/2022 academic year.
Starting with the fall 2021 semester, we are planning to offer a significant increase in on-campus learning opportunities at MSVU. To ensure that we can provide you with the most accurate timetable possible, we will delay fall/winter registration to May 2021.
While our intent is to return to in-person classes to the greatest extent possible, we appreciate that some students will need or want to continue to learn online. We have a long history in online learning at MSVU – in fact, many of our courses and some entire programs were available online before the pandemic started. Throughout the 2021/2022 academic year (and beyond), we will continue to provide opportunities to learn online.
We are also planning to offer increased on-campus student life opportunities this fall, including Residence options and resumption of on-campus student services. Students are encouraged to apply now for Residence as spaces are expected to be fewer than usual due to pandemic protocols. Throughout this past year, we've learned a lot about remote delivery of student services and we will consider how we continue to provide that option in order to meet the needs of those studying at a distance.
The safety of all members of the MSVU community will remain our top priority as we plan for the upcoming academic year. Things are likely to look a bit different as we return to campus as certain Public Health protocols are likely to remain in place. We're committed to adhering to all Public Health directives while providing a welcoming space.
And of course, we will remain responsive to any changes in the pandemic. If we've learned anything this year, it's that flexibility is key. If we need to change course at any point, we will be ready.
I've said it before, but it bears repeating: I continue to be impressed by the resilience of the MSVU student body. You've risen to the challenges that the pandemic has presented admirably. Remember that your MSVU community is here for you should you need us. You can find a full list of student supports here.
As always, if you have any questions, please don't hesitate to be in touch. You can also contact Paula Barry Mercer, MSVU's Associate Vice-President of Student Experience, at ose@msvu.ca.