MSVU is beginning the search for the next President and Vice-Chancellor. Dr. Ramona Lumpkin, CM, is currently the Interim President and Vice-Chancellor.  She is a respected leader and university administrator and served as President and Vice-Chancellor for seven years before retiring in 2017. It is with a great deal of gratitude that we acknowledge Ramona's leadership through our period of transition.
The search for a new president includes opportunities for input from a wide range of representatives from MSVU and the establishment of a Presidential Search Committee, representing all constituencies of the university community including faculty, staff, students and alumni.
When reading through the Presidential Search web page, you will find information on the steps and timing (PDF) that will take place in the Committee's search process. Additionally, the Terms of Reference (PDF) and the Procedures to Guide Confidential Searches for Senior Admin Positions (PDF) have been added. These documents are guiding the work of the Committee.
Announcing MSVU's next President and Vice-Chancellor – May 3, 2022
Good afternoon MSVU community,
On behalf of the Board of Governors, I am delighted to announce the appointment of Dr. Joël Dickinson as Mount Saint Vincent University's next President and Vice-Chancellor.
About Dr. Dickinson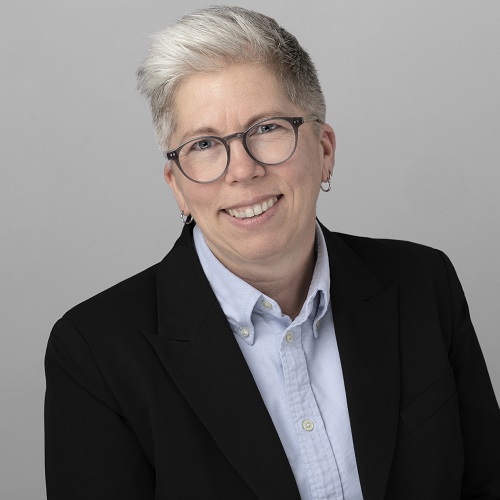 Dr. Dickinson (biography attached) demonstrates a strong commitment to the mission, vision and values of MSVU, and to our purpose of fostering the education of women and other engaged thinkers, while committing to social justice and to an equitable, diverse, inclusive and accessible community. As President, she will lead us through our next chapter while ensuring our continued focus on that core purpose. She is excited by our strategic plan for its clarity of direction and ambition, and for its emphasis on putting people above all else.
Dr. Dickinson is an accomplished academic administrator. She is currently Dean of the Faculty of Arts at Laurentian University and has also held the positions of Acting Associate Vice-President of Teaching and Learning (2020-2021), and Chair of the university's Department of Psychology. Throughout her career, she has been focused on the impacts of decisions on students, as well as meaningful collaboration with faculty and staff colleagues.
She has held a leadership role with the Laurentian University Sexuality and Gender Diversity Committee, and was a long-standing member of the Presidential Advisory Committee for the Status of Women. She also served as an ex officio member of the Laurentian University Native Education Council, through which she has had the honour of learning from the Atikameksheng Anishnawbek First Nations People. She has previously taught at the University of New Brunswick and Mount Allison University. Dr. Dickinson holds a Psychology Honours, Bachelor of Arts, and PhD in Psychology from the University of New Brunswick.
"MSVU is a special institution, unlike any other in the country, and I'm eager to ensure it remains a post-secondary destination of choice," said Dr. Dickinson. "The opportunity to lead and exemplify all that makes MSVU unique is a privilege that I am delighted to have been afforded. I look forward to working alongside the exceptional students, faculty, staff, alumni, friends, supporters and partners who make up the MSVU community."
We are fortunate to have Dr. Dickinson join MSVU. She will officially begin in her new role on July 1, 2022, however, she hopes to meet with the University community when she is in Halifax in mid May. Work is already underway to ensure her smooth transition and I am deeply grateful for the Interim leadership of Dr. Ramona Lumpkin and Dr. Sheila Brown.
As she leaves the Robinson Huron Treaty Territory in N'Swakomok (Sudbury) to join us on campus in the unceded territory of the Mi'kmaq People, please join me in welcoming Joël.
About the search
In a very competitive academic search environment, the Committee was thrilled to recommend Dr. Dickinson to the Board of Governors for the strength of her experience and strong alignment with who we are and our vision for the future.
Countless members of the MSVU community have provided valuable input throughout this search process. We started the process with consultation sessions and an electronic survey of our community. More recently, representatives of MSVU faculty and staff groups, as well as students, gave of their time to be part of supplemental interviews with each short-listed candidate. Thank you to all of you for your thoughtful contributions. To our supplemental interview participants: your questions of the candidates, and feedback on those questions, proved valuable in the Presidential Search Committee's deliberations.
I cannot thank the Presidential Search Committee enough for the hours spent on this search – from reviewing applications to joining many Teams calls. Your insight, analysis and determination guided and solidified the search. The pandemic made this a very unique search to navigate and you pivoted with every turn that we had to face. Each member of the committee demonstrated time and time again a relentless resolve to finding our candidate while ensuring that we were asking the right questions of the candidates and of ourselves.
Sincerely,
Amanda Dean
Chair of the Board of Governors and Presidential Search Committee
Mount Saint Vincent University