Teaching and Research
The English Department offers a number of courses every year that focus on the study of women and gender, most of which are listed as women-emphasis electives or as cross-listed courses in the Women's Studies Department. It is possible to take such a course at every level in our English program: ENGL 1155, Introduction to Literature: Gender and Form; ENGL 2242: Themes in Women's Writing; ENGL 3363, Feminisms and Their Literatures; and ENGL 4407, Queer Theory. In addition, courses on women and gender may be offered as special topics or directed studies. Gender study is a well established part of the field of English literature, and many professors in the department incorporate such an approach among a variety of others in their teaching and research. Several English professors are also appointed as faculty in the Joint M.A. in Women and Gender Studies.
For more information on the women-emphasis courses offered every year by the English Department, see our Course Guide for the current year.
---
The Lesbian Pulp Fiction Collection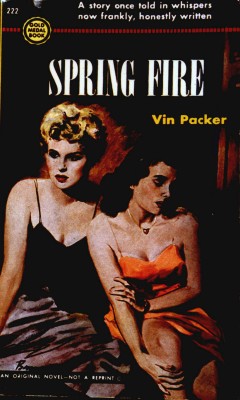 This special collection of rare books in the Mount Saint Vincent Library is a rich research resource for students of literary history, feminist theory, women's history, cultural studies, and visual design. The novels are on permanent display beside the circulation desk in the Library.
---

Women-Emphasis Courses

ENGL 1155: Introduction to Literature: Gender and Form / one unit
An introduction to the critical study of the major forms of fiction, poetry, and drama, using examples from the time of Chaucer to the present day. Readings will include a balance of female and male writers, and a special focus for discussion will be representations of gender. Students may not take both ENGL 1155 and ENGL 1170/1171 for credit.
ENGL 2242: Themes in Women's Writing / half unit
A study of a specific theme in women's writing from a range of historical periods, including texts prior to 1800.

ENGL 3363: Feminisms and their Literatures / one unit
A cross-cultural survey of women's writings from 1970 to the present. This course will examine feminism as a plurality and its activity as an international literary movement.
---
Cross-listed Course
ENGL 4407 / WOMS 4407/ GWGS 4407 Queer Theory / half unit
Prerequisite: 1.0 unit of ENGL at the 2000 or 3000 level or 1.0 unit of WOMS at the 3000 level or permission of the instructor
An examination of recent developments in lesbian and gay cultural criticism. Topics to be covered may include identity politics, camp, psychoanalytic theories of identification, pornography, and the representation of AIDS.