January 2020
Written by: Lisa MacNeil, Co-op Coordinator, Co-operative Education
Third year Public Relations student, Janessa Ferguson did not expect she would complete two of her co-op work terms with the federal government but she has loved every moment of it. Janessa completed her second work term with the Canadian Food Inspection Agency (CFIA) in Moncton, New Brunswick where she further developed her communications skills in a fast-paced and supportive environment.
"I was worried in ways that I wasn't going to fit into a setting like this, but after spending almost eight months here my entire outlook has changed. I learn new things every single day and having government work experience is so vital in a job search. I have gained firsthand and experience in many different types of communications situations. Lots of people really find their stride here. I think it's important to explore every option, even if you're like me and don't think that certain avenues are for you. You may just surprise yourself."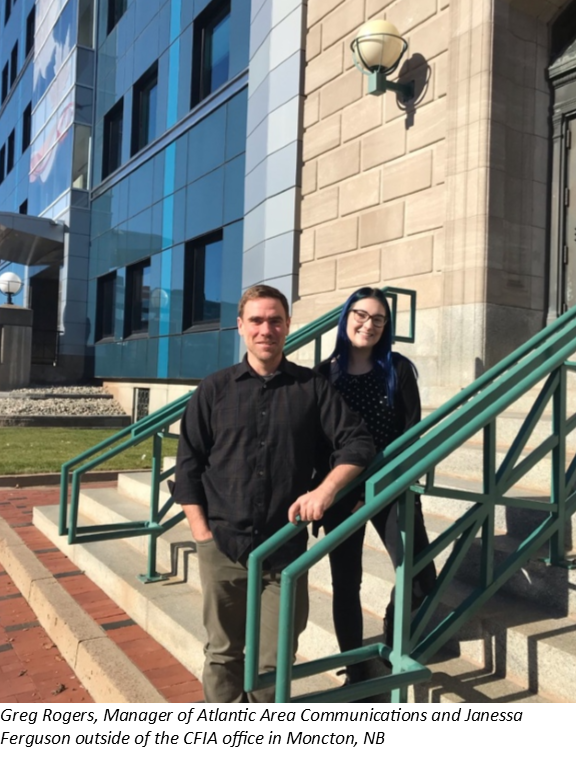 Throughout her co-op work terms, Janessa has been able to work on a multitude of projects – everything from writing news releases, blog posts, website content, intranet articles and social media posts, as well as answering media lines and organizing events. While she has loved the diversity of the work, her favorite part has been the support and trust from the team and her direct supervisor.
"I love the independence I am given here. My supervisor, Greg has trust in my abilities and isn't watching over my shoulder. He lets me figure things out but is always available if I need support. Greg has years of experience in the communications field and has been a great mentor when I have questions about the different facets of the industry. It feels great knowing I can ask anything and get a well thought out response. Being able to pull on his years of experience to answer my seemingly unimportant questions has shined a huge light on all different levels of government."
It is evident that Greg feels equally passionate about hiring and supporting co-op students along their educational journey. "Co-op students like Janessa add value by contributing their enthusiasm and ideas to the workplace, along with a fresh perspective. You get the opportunity to hit the ground running and to contribute to the important work we do. The CFIA is a strong supporter of learning and growth for all of its employees, and students in particular get a lot of support and encouragement to expand their skills."
The opportunity to work as part of a regional communications office also comes with its benefits. "Students get experience with all aspects of communications. Most departments and agencies are headquartered in the National Capital Region, where the teams tend to be more specialized in certain areas. In a regional office, you get the chance to do a little bit of everything which is a real advantage for students."
When asked what traits he looks for when hiring co-op students, Greg states "A positive attitude and good interpersonal skills go a long way. Strong writing skills and an ability to see the big picture to synthesize information into plain language are also important in this field."
And in terms of on-the-job advice, Greg believes that attitude is everything. "You will get out of the position what you put into it. I encourage students to ask questions and to not be afraid of proposing solutions to challenges. We value the perspective that students bring into the role."
For Janessa, the support of the team has contributed to her growth both personally and professionally. While making the move to Moncton from Halifax came with its initial worries, she has only grown from the experience. "I always knew I was independent but moving to a new province where I didn't know anyone forced me to step outside of my comfort zone. It has been a nice change in routine. I think everything worth doing should scare you a little bit or else you're not going to grow and learn from it."
So whether you may be planning to work in government or not, taking a co-op job in government is a great way to build critical insights into how the bureaucracy works. "Working for government departments like the Canadian Food Inspection Agency gives students perspective on how the industry and the not-profit sector interact with government. It gives students a taste of the wide range of work that we do, and potential career opportunities," states Greg. The federal government also offers a Student Bridging Program where students can be appointed a position without going through the competitive process.
Overall, the message is clear – it's important to step outside of your comfort zone and be open to new opportunities as you never know what you may end up learning about yourself in the process!