June 2021
Written by: Raina DeBrouwer, Co-op Coordinator, Co-operative Education
For Karly Piercy, Mount BPR alumni and founder of Halifax-based vintage shop Florence's Collection, entrepreneurship was always something at the back of her mind. "I've always known that I wanted to have my own business one day, but I never could have anticipated the way it happened."
Before graduating from high school in Fredericton, New Brunswick, Karly wasn't sure what her next step would be. A friend mentioned the Mount's Bachelor of Public Relations (BPR) program, leading Karly to seek more information at a university fair. The program seemed to be a perfect match. Karly had always been a good writer, and the ability to communicate and connect with others are integral pieces of the program. She also saw that once she graduated from the program, she could take her career anywhere.
"Every single business–whether they know it or not–needs to know how to create impactful messaging. I could work in sports, I could work in government, with a small business, or a non-profit. Anywhere. There is so much versatility in the field."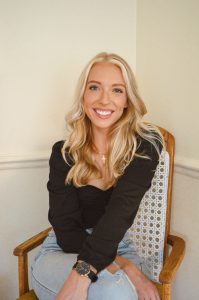 After doing more research online, Karly decided to apply. The ability to obtain a full year of work experience through co-op before graduating was an added benefit of the program. Upon receiving early admission and an entrance scholarship, her mind was made up–she was heading to Halifax to pursue a Bachelor of Public Relations degree.
Karly's intuition was correct in thinking the program would be a great fit for her. The core communications courses specifically resonated. While co-op was more of a contributing factor in deciding on the program, it turned out to be immensely impactful for Karly.
"A huge part of the reason I feel confident in the tasks I do on a daily basis now is that I got to experience them first with co-op. I got to do three different jobs in three different provinces in three different sectors, which has helped me a lot in my business today. I've peaked behind the curtain at massive businesses. I've had great exposure and can continue educating myself in the varying levels of running a business, based on some of the experiences I had in co-op."
Karly's first co-op was at Horizon Health Network in Fredericton, New Brunswick. While she was initially struggling with fears of being underqualified, she quickly pushed them aside and focused on being the best she could be. Karly earned the trust of her supervisors in the first couple of months, granting her the opportunity to autonomously manage projects, handle media relations, meet with clients, and dabble in crisis communications. Karly was ultimately nominated as Mount Co-op Student of the Year by her supervisors at Horizon Health Network– a true testament to her ability to push through uncertainty and provide quality work.
Karly's second co-op was at Alberta Energy Regulator in Calgary, Alberta. It was a big change going from a small hospital in a small town to a massive corporation in downtown Calgary, and the location wasn't the only learning curve.
"I realized pretty quickly that the oil and gas industry wasn't the best fit for me. That said, I had an amazing experience because I learned so much and met so many great people. That's one of the huge benefits of the co-op program–it gives you three unique opportunities to understand what the field is all about."
Karly's third and final co-op was at NATIONAL Public Relations in Halifax, Nova Scotia. This co-op proved to be an amazing fit for Karly–fast-paced, intense and creative. She worked with huge brands to bring their visions to fruition alongside the most established and creative minds at the agency.
"The people I worked with were absolutely brilliant. I was able to do so much, and if I wasn't able to physically do something, I was at least able to see it being done. To listen to and collaborate with people who are so established in their careers was amazing."
Karly's sentiments on the agency were obviously reciprocated, as she was extended a contract to work as an executive assistant for the managing partner post-graduation.
It was at her first permanent position post-graduation, however, that Florence's Collection was conceived. Karly was working as a marketing specialist for a local organization when she got the idea to begin sourcing vintage items, restoring them, and selling them on Instagram as a side hustle. One month after Florence's Collection was created, Karly was unexpectedly fired from her first full time job out of university after speaking up against a sexist job ad, written and posted by the CEO of the company she was working for.
"It was a huge shock to my system. I was devastated, but I was also proud to be able to speak on behalf of the women in my office and the women that would come to read that job ad. I was also really bitter for being fired because I knew I was very good at my job. I remember thinking, I don't want to work for someone who doesn't appreciate my value. So, on the same day that I was fired, Florence's Collection became my full-time job."
The reception to her business was positive. In one short year, Florence's Collection amassed over 10 thousand followers on Instagram. Florence's Collection is a vintage shop that provides a convenient and sustainable shopping experience. It is an online space where people can go to get inspired, support a small business, and furnish their homes with handpicked vintage pieces. The vision for the brand is to help solve the problem of mass production that exists within the clothing and home décor spaces.
"Shopping vintage goes beyond trendiness–it has a real impact on our planet and allows people to purchase unique pieces that have already stood the test of time." Karly notes.
Karly is the sole owner and operator behind the brand. Prior to the COVID-19 pandemic and ensuing community restrictions, Karly would typically spend two or three days a week going to thrift stores, auctions, estate sales, and yard sales to find vintage items for the collection. When she isn't sourcing new items, Karly spends much of her time engaging with her followers on Instagram to drive traffic to her website. Her customer base largely consists of repeat customers, something she attributes to the time she spends connecting with customers online.
Given the current restrictions associated with COVID-19, Karly built out the website and has moved operations from her brick-and-mortar shop in Halifax to a wholly online presence.
"I do a lot of work on my website–updating it, making sure it's accessible and easy for my customers to use, and swapping out photos. A huge chunk of my time is spent staging items, taking photos, and editing them. Styling pieces shows customers what they could look like in their homes. Creating an aesthetic and allowing customers to see themselves in the products takes a lot of time but I think it's something that helps set me apart from other resellers."
Every Thursday at 6PM, Karly does a new collection drop on the Florence's Collection website. She also posts about the new arrivals on Instagram, driving buyers to the website where they can view more photos and read detailed descriptions about each piece. Once items are purchased, Karly carefully packages them to be shipped, picked up, or delivered.
"As a one woman show, I wear a lot of hats. I'm the photographer, the marketer, the accountant, the customer relations manager, the website developer, and more. My education definitely set me up for success. I don't attribute everything to it, because I believe that what I do is a beautiful combination of hard work, education, and life experiences, but my education familiarized me with the more technical aspects of the job."
For those considering applying to the Mount's BPR program, Karly's advice is sound.
"Sit down with yourself and think about what you're interested in, what your strengths are, and what your weaknesses are. Then do the research. There is so much valuable information available to you on the Mount's website. If you're an outgoing, articulate person who likes connecting with others and writing, the chances are the program is a good fit for you. Go for it."
As for aspiring entrepreneurs, Karly's advice is similarly clear-eyed.
"The hardest part is getting started. There will be times when you feel like you're not good enough or it's too hard or it's a bad idea. Continue to remember what got you started in the first place. You'll be faced with so many problems and doubts, but you will also reap the rewards and benefits of being your own boss and starting something that's yours. Bringing your vision to life is a powerful thing. It's cheesy to say you can do anything you set your mind to, but it does hold a lot of truth. Hard work and determination can take you really far."
As for what's next, Karly is intent on continuing to build the business and brand named after her late grandmother, Florence.
"I want to continue building a community of people who love vintage and sustainable shopping. I want to inspire people to make small changes in their lives, whether that's where they shop or how they shop. Educating people, inspiring people, and providing people with beautiful one-of-a-kind products for their homes is what I love to do."
You can find Florence's Collection at www.florencescollection.com and @florencescollection on Instagram. Be sure to check out their weekly collection that drops every Thursday at 6pm on the website and subscribe to the Florence's Collection newsletter to get sneak peeks of each drop.