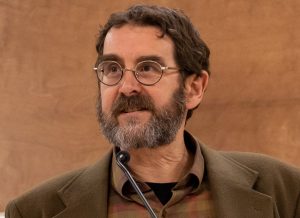 B.A. (Hons.), Queen's University
M.A.R., Yale University
Ph.D., University of Toronto
Arthur McCalla grew up in Hamilton, Ontario. Prior to coming to the Mount in 2004, he taught at the University of Toronto and then at Reed College in Portland, Oregon. He is cross-appointed between the Departments of History and Philosophy/Religious Studies. Arthur is an intellectual historian. His research program investigates challenges the rise of historical-mindedness posed for religious claims to eternal truth, and the ramifications of these challenges for modern society, through specific studies on the philosophy of history, history of religions, and historiography of religion in early nineteenth-century France, and on the status of the Bible in relation to emerging historical sciences from the seventeenth century to the current controversy over Creationism.
Arthur's courses include Eastern Religious Traditions, Western Religious Traditions, American Religious History, History of Christianity, and History of Atheism.
Books
Religion and the Post-Revolutionary Mind: Idéologues, Catholic Traditionalists, and Liberals in France. Montreal, Chicago, and London: McGill-Queen's University Press, 2023.
The Creationist Debate: The Encounter between the Bible and the Historical Mind, 2nd edition. London: Bloomsbury, 2013.
The Creationist Debate: The Encounter between the Bible and the Historical Mind. London and New York: Continuum, 2006.
A Romantic Historiosophy: The Philosophy of History of Pierre-Simon Ballanche. Leiden and Boston: E. J. Brill, 1998.
Articles
"Paganism in Restoration France: Eckstein's Traditionalist Orientalism" in Journal of the History of Ideas 76 (2015): 563-585.
"The Free Market in Religion and the Metaphysical Invisible Hand: Benjamin Constant and the Construction of Religion as Private" in Religion 42 (2012): 87-103.
"The Mennaisian 'Catholic Science of Religion': Epistemology and History in Early Nineteenth-Century French Study of Religion" in Method & Theory in the Study of Religion 21 (2009): 285-309.
"Teaching and Learning Guide for: Creationism" in Religion Compass 2 (2008): 1159-1163. . http://www.blackwell-synergy.com/doi/full/10.1163/ j.1749-8171.