October 2022
Written by: Raina DeBrouwer, Co-op Coordinator, Co-operative Education
Tien Pham was in high school when he discovered his latent passion for public relations (PR). Growing up in Hai Duong, Vietnam – "halfway around the globe from Halifax"— Tien joined his high school's media club and felt an instant pull towards the ever-changing nature of the PR industry.
"It was like a sparkle," Tien said. "The future of media is very interesting. Ten years ago, things were so different. I don't know how the next ten years will go, but I do know that working in media will keep me energetic and motivated because of its unexpected trends."
The public relations industry in Vietnam is young but competitive. Tien wanted to study public relations in a country with a richer PR history, so he decided to explore his options. He researched the best PR programs in Canada and a winner emerged: he was coming to Halifax to attend the Mount Saint Vincent University.
At least that was the plan until COVID-19 hit. Instead, Tien had to take his first full year of classes online. Despite losing one year of the full university experience, he hit the ground running as soon as he landed in Canada. Tien quickly engaged with professors and got involved with the Mount Students' Union as Social Media & Content Manager. He had followed the Union on social media and had seen some gaps to lend his experience to.
After a year in the Students' Union role, Tien won't claim absolute success but is confident that he's seen an improvement in engagement. The Union has strengthened partnerships with stakeholders at the Mount, and gradually gained more trust with students. Working to build relationships with people in a new country using your second language can certainly be viewed as a challenge for some, but Tien embraced that part of it: "Challenges are something fun to work with. If you figure out what you're up against and fix it, you can learn a lot," he says.
Tien also applied to a Student Works position in the Department of Communication Studies soon after arriving in Canada. He thought it would help him get to know the department as a student – "who the people are, what they do, and what their vision is for students. It's not a new department, but social media was a space for the department to develop. There was a real opportunity there." Tien successfully landed the Social Media & Event Coordinator job and began working closely with assistant professor Dr. Ellen Shaffner to develop a social media strategy to make the department more approachable to students.
Among the many projects Tien worked on in this role was the hugely successful Crow-munications April Fools Day campaign. The campaign, a news release and video playing on the Mount's earned reputation as a crow hot spot (it's estimated that 4,000-8,000 crows flock to the MSVU campus every evening at dusk to roost), claimed that the Mount was introducing a Bachelor of Crow-munications program to help students "benefit from analyzing the sophisticated communication system of crows and its applications to real-world organizational communications management." Cheeky course names were introduced, like Crisis Crow-munications: When Feathers Ruffle and Auditory Communication: What's in a Caw?. The video was a hit – earning nearly 7,500 views on Instagram and 800 combined likes on Facebook and Instagram.
"The idea originally came from University Relations. They brought it to Ellen, and she came to me with a 'fun and spicy new project'. It was so much fun. I was able to put my video production and social media skills to the test. It was so exciting to see the video be so successful – we were watching people react online in real time and we just loved to see all the engagement."
Dr. Ellen Shaffner was also excited to see the engagement, especially considering the campaign almost didn't happen. "Tien's work on the Crow-munications campaign really wowed me. We actually considered pulling the idea at the last minute because the original video producer had an unexpected emergency. Tien stepped in with little notice, and within about four hours, he had developed a new video plan and storyboard, filmed the content with me, edited and produced the final cut, and delivered it to the University Relations team for approval and posting on April first. It was great to see his work on that project be so well-received by a really wide audience."
With all this experience under Tien's belt, he was ready for a new challenge: his first co-op term. For his first off-campus professional work experience in Canada, Tien set his sights on an organization whose mission made sense to him. Halifax Partnership is an economic development organization that provides co-op students with the opportunity to work on many different projects promoting Halifax. As someone who was eager for a fast-paced role and wanted to learn more about Halifax, this role was perfect. Tien applied, interviewed, and was thrilled to learn he landed the role.
"I must extend a huge shout-out to the Mount Co-op Office for helping me prepare for co-op job applications. The word 'happiness' wouldn't be enough to describe my feelings when I received the Partnership's job offer email. Almost immediately though, I was terrified. I really wondered about my ability to work with such talented and career-oriented people in the big shiny Nova Centre. It was telling though that on my first day – still jetlagged from a recent trip home to Vietnam – I was absolutely buzzing with excitement. I already couldn't wait for my second day. I understood their mission of promoting Halifax and really bought into it."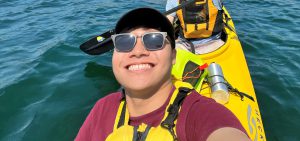 Tien felt so connected to this mission, he created his own LinkedIn post to contribute to the Partnership's #LivinginHalifax campaign. Tien spoke about the intrinsic connection Atlantic Canadians have to the ocean, and how that feeling of connectedness inspired him to overcome his fear of being on the water.
"Halifax is the perfect size. I can escape from the hustle and bustle of the city so easily. I've heard that people are moving back to Halifax from bigger cities, and I can understand that." Tien also thinks it's a logical destination for people moving to Canada from other countries, "Halifax is welcoming to newcomers. Bigger cities like Toronto and Vancouver can be overwhelming for newcomers to Canada. Halifax is small enough that you feel like you're part of something. There's an emphasis on growing, and it's not just industrial growth. It's living spaces too."
In terms of his next co-op, Tien finds himself strategizing. One of the primary benefits of co-op is the opportunity to test out different industries and sectors in four-month stints. This benefit isn't lost on Tien. "I've worked at an economic development non-profit, so I'm thinking of either pursuing a large organization or a creative agency. I'm also very interested in learning about renewable energy. Halifax is an ocean city, so I think it's an area to capitalize on."
When asked about advice for students considering studying at the Mount, Tien says it's all about pushing yourself. "The Mount is a small university, but there is so much opportunity here: perfect class sizes, amazing professors, and a great Communication Studies department. It can be competitive, but challenge is a good thing – you don't learn in a relaxing environment. You need to push yourself to learn about yourself. Jump into the challenge!"
You can follow Tien's co-op journey and life in Halifax by connecting with him on LinkedIn.