What is PACE?
PACE (Physically Active Children Excel) is a community play-based physical movement program for children from diverse backgrounds, ages 3-7 years. PACE provides opportunities for children to explore and gain competencies in the areas of physical literacy, movement and outdoor play.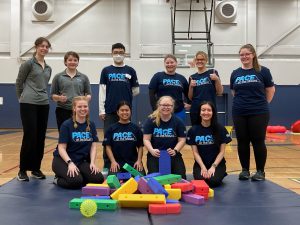 PACE was established in September 2017 by Dr. Sarah Reddington, Assistant Professor in Child and Youth Study. The initial idea behind PACE was for young children in our community to have free access to a quality activity program that supported young children in gaining competences in physical literacy and fundamental movement.
PACE has grown over the course of its conception in 2017 and continues to expand. In Fall of 2018, PACE was used as an experiential learning program in both Education and Child and Youth Study courses. PACE is also used as a  practicum placement and volunteer opportunity for both Mount Saint Vincent and Dalhousie students. This experiential component is highly valuable as it supports students in gaining the skills and knowledge to teach young children physical literacy, movement and outdoor play components.
PACE Winter 2023 Program details
PACE is offered at Mount Saint Vincent University on Friday mornings (10:30am-11:30am), between January 27 – March 31, 2023.
PACE follows the new Nova Scotia Early Learning Framework's principles and Canadian Sport for Life Active Start principles to support young children's exploration of movement through child led play.
The ratio of children to facilitators is 2:1.
PACE is designed to be fully inclusive so every child has the opportunity to explore and engage in play in meaningful ways.
Volunteer opportunity
PACE is an excellent hands-on volunteer opportunity for you to learn about movement education and gain experience working with young children from our community. We are currently looking for student volunteers from any discipline (arts, science, professional studies, education) for Winter 2023.