Registration details for Fall will be available soon!
Learning Passport program is not offered over the Summer terms
Gain Experience and Earn Bonus Points!
The Learning Passport program began in 2009 and has been growing continually. The program is designed to encourage students enrolled in Business and Tourism courses to participate in extracurricular activities within the Department of Business and Tourism, the University, and the broader community.
The Learning Passport program provides students with opportunities to gain exceptional learning experiences outside the classroom. Students will also be eligible for prizes and bonus points in Learning Passport eligible courses!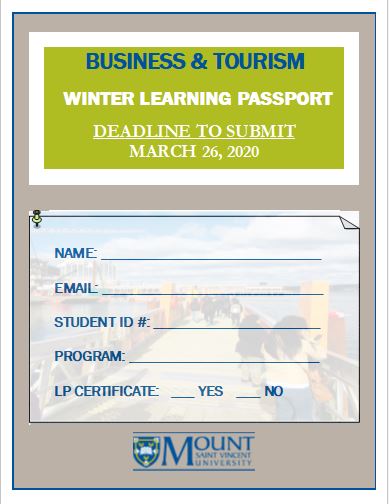 Updates can be found on the Moodle site
Eligible activities offer learning opportunities for students studying on and off-campus. Examples of eligible activities include: attendance at a career day; attendance at a speaker panel, seminar, public lecture or conference/trade show related to Business or Tourism; and meeting with a business leader who is working in the field of Business or Tourism.
The Learning Passport program has its own Moodle site. This site is used for communication with our students and includes the Learning Passport sign-up sheet, list of LP eligible courses, and a list of eligible activities and "rules" associated with the program. The LP Moodle site is available to Mount students. If you require assistance with accessing the site please contact learningpassport@msvu.ca
Our students share their thoughts and experiences with the Learning Passport Program
"The Learning Passport Program not only allows students to earn bonus points for their business and tourism courses, but gives students the opportunity to network with industry leaders and to learn about possible career paths. I honestly can't say enough about how great this program is. There are so many fantastic activities offered on-campus and online throughout the year. I would highly recommend it to students in all years of study." – Gracen Marchand
"Just want to thank you all for this program. I can't say enough about it. The marks motivated me to attend those sessions but I think I will never stop attending seminars, and will look for learning opportunities out
side of the classroom. It is such an amazing program." – Fairouz Mothana Fall 2015
"The Learning Passport Program is a great incentive for students to get out, network and learn from the real world. All we need is that push. Once we're there, we see there is definitely more to get from it than bonus points."– Gisele Gomes, student
"…the Learning Passport Program allows students to have many benefits…networking opportunities, continual learning from past graduates of MSVU and from guest speakers. Fun and interesting experiences are gained, along with bonus points towards all of your classes!"– Josie Boutilier, student
Participate! Discover! Learn!