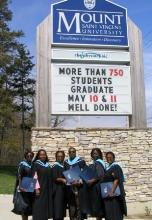 The Mount has a long history in Teacher Education, Educational Effectiveness, Literacy, Leadership and Pedagogy. Some of our recent programming focuses on classrooms in action, including effective pedagogy for subjects like Technology Education, Literacy and the Educative Workplace.
International programs offered by the Faculty of Education provide strong examples of the capability, capacity, expertise and potential in designing and delivering education projects and programs to prepare teachers for teaching in dynamic and diverse classrooms and educational professionals to succeed in the classroom and become leaders in schools, workplaces and communities.Our international education undergraduate and graduate programs offered by the Mount build on the areas of expertise of the Faculty.
In 1998, the Faculty of Education began to deliver its first international program. This program, Graduate Studies in Adult Education, now Lifelong Learning, opened the way for future international collaborations and initiatives. To date over 1000 teachers and education professionals have graduated from the Mount international programs.

Our Approach
The Faculty of Education believes in the importance of partnerships in all its international work, consultancies, short-and long term projects and programs. The partnership approach ensures that the programs reflect, respond and respect the local situation to ensure quality sustainable projects and programs.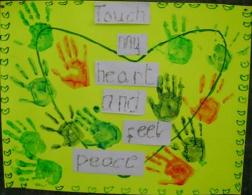 The Faculty of Education's past partners include a diverse list of institutions and organizations in the education field, including Ministries of Education, Teachers' Colleges, Teachers' Unions and Education Professional bodies.
The education programs are designed in collaboration with local partners to accurately reflect the teachers', schools' and communities' needs and interests while maintaining core elements of the curriculum. A goal of the programs is to graduate excellent educators who bring creative, diverse teaching strategies to their classrooms. Students are encouraged to construct their own knowledge through exploring theory, practical experience and reflection.

Educational Expertise Areas
The Faculty of Education has a diverse and exciting range of areas of expertise in the field of education from which strong, quality teaching, consulting and research work develops. The areas of expertise include:
Active Citizenship
Adult Education and Life-Long Learning Theory, Pedagogy and Practice
Curriculum Evaluation and Assessment
Curriculum Practice
Curriculum Theories
Educational Leadership
Inclusive Education
International/Intercultural Education
Literacy Instruction
Reading Processes and Teaching

International Experience
The Faculty of Education had been active in developing and delivering international consultancies, projects and programs. In recent years the university offered education programs in Jamaica, Barbados, and Trinidad and Tobago.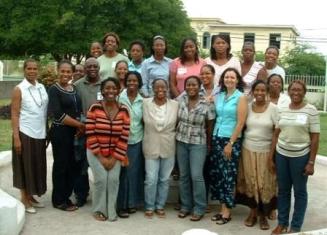 These programmes were professional and practical, seeking constantly to provide the most up-to-date learning experiences for educators. All programmes were delivered in a functional, cost-effective balance of face-to-face and distance modes of learning. It is our proven philosophy that all students need time to work closely with their instructors prior to embarking on a distance learning mode, and this practice made the experience successful.
Highlights of our past programs include:
Diploma in Technology Education for 120 Secondary Teachers in Trinidad, 2003-2005.
Diploma in Primary School Management for 800 Primary Principals in Jamaica, 2003-2006.
Student Teacher Practicum Consultancy. Canada-Pakistan Basic Education Project Punjab Province Pakistan, 2007.
Master of Education for the Teachers of the Blind/Visually Impaired; Deaf/Hard of Hearing, Barbados, 2001-2004.
Master of Education Curriculum Studies – Inclusive Practices, 2001-2007
Bachelor of Education in Association with Erdiston Teachers' College – Inclusive Practices, Barbados, 2002-2005
Bachelor of Education in Association with the College of Agriculture, Science and Education, Jamaica, 2003-2005
Master of Literacy Education, Bermuda, 1998-2000
Advanced Diploma in Technology Education (Train–the-trainers), Trinidad and Tobago, 2004-2005.