August 2015
Lisa MacNeil, Coordinator, Co-operative Education
Fourth year Bachelor of Arts student Hailey Stapleton operates under the belief that if you are given an amazing opportunity, you should seize it! Hailey chose to do exactly this when the opportunity arose to complete a 13 week internship as part of her arts degree at the Mount.
Securing an internship as a Wildfire Information Officer with the Government of Alberta, Hailey has soared to new heights, quite literally. In addition to traveling across the country to start a new life for four months, Hailey also took a helicopter ride to reach a mountain top lookout tower, where she learned how wildfires are monitored and reported from high altitudes. Her position as an intern has far exceeded her expectations.
"I was nervous that as an intern that I may not be given enough responsibility to be able to learn and grow while experiencing different aspects of the position. But I have been welcomed to the team and exposed to so many diverse areas of the department. Everyone has been so friendly and supportive." From field work to learning about wildfire prevention and management, to planning events for close to 2,000 people and attending events with upwards of 8,000 people, Hailey has learned a lot about herself and her future goals. "Not only has my internship given me the chance to build my resume, it has allowed me to explore what is out there for career and education options. I have learned that I can combine interests, such as my love for written communications and my passion for nature, to make a career for myself."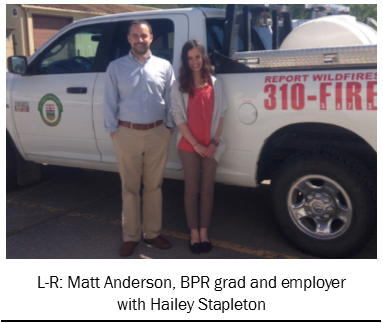 Hailey feels her experience has given her clarity and confidence when answering the question "what will you do with your arts degree?" Applying her writing courses and problem solving skills in a practical work setting, while building her professional network and her resume, Hailey is more prepared for the exciting opportunities that lie ahead of her.
Currently, Hailey is completing her Honours Thesis in English and is considering completing a Masters in Communication after gaining community outreach and public relations experience during her internship. When asked what advice she would share with someone considering an internship program, Hailey replied, "Plan for the internship and the pre-internship process in your schedule. Take the initiative to talk to your professors and see how you can make it happen. The experience is worth it."
Hailey Stapleton is one of the students accepted to the Mount's Arts and Science Internship Program, a new program which launched in the fall of 2014. For more information about experiential learning opportunities at the Mount, including the Arts and Science Internship, visit www.msvu.ca/co-op.