By: Raina DeBrouwer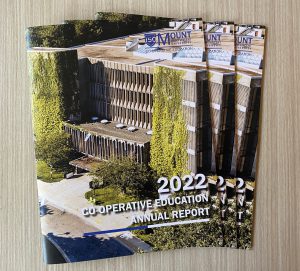 Each year, the MSVU Co-op Office publishes an annual report outlining our activities over the previous year. With co-op, internship and work experience students going out on work terms every semester, it can be challenging for us to find time to reflect on accomplishments in the moment. Building out a comprehensive annual report allows us to do that! It also gives our students, employers and funding partners insight into the work that we do to expand work integrated learning (WIL) across Canada and beyond.
Here are some highlights you should be sure to check out in the 2022 MSVU Co-op Annual Report:
Greetings from the Team
The MSVU Co-op Team is a small but mighty group. The five of us work year-round to help students get jobs, help employers secure students, and ensure work terms run smoothly once students are in them. Our team consists of:
Scott Daniels, Co-op Manager
Courtney Green, Co-op Coordinator
Raina DeBrouwer, Co-op Coordinator
Shari Arsenault, Employer Liaison
Jasmine Ho, Student Liaison
You can read more about what we do, and what excites us about work integrated learning (WIL), on pages four and five of the annual report.
Co-op Process Loop
We often get questions from students and employers about the mechanics of our various WIL programs. While most people know that work integrated learning involves students participating in the workforce as part of their post-secondary curriculum, they may not know what that looks like in practice. Our co-op process loop outlines the journey of a typical MSVU WIL student and is featured on page 10 of the annual report.
Our Program in 2022
If you were a student that went out on a work term in 2022, you're a piece of the large puzzle that the Co-op Office diligently solves each year. Last year, 178 students completed work terms through our office. Fifty-two percent of those were tourism & hospitality management students, 32% were public relations students, 13% were business administration students, and 3% were arts and science interns. You can see the breakdown of what industries these students worked in on page 11 of the annual report.
Salaries & Geography
Salaries are top of mind for our WIL students these days. While it's true that students have always been particularly budget-conscious, we've seen the need for higher paying WIL opportunities grow as students contend with the economic realities of the past couple of years. Luckily, we saw an increase in average salaries from 2021 to 2022 in all programs. You can check out the average hourly rates for our students and learn where they worked geographically in 2022 on page 12 of the annual report.
Co-op Students and Employers of the Year
Each year, we put out a call to co-op employers to nominate exceptional students for the MSVU Co-op Student of the Year award. We ask students to do the same for employers who have given them excellent co-op opportunities. We are always thrilled to get many nominations for each program, as it shows us that both students and employers are reaping the many benefits of co-op. In 2022, Julia Strickey was the business administration Co-op Student of the Year, Fei Xie was the tourism & hospitality management Co-op Student of the Year, and Sophia Hong was the public relations Co-op Student of the Year.
As for employers, here were the award recipients:
MARS VR Lab, New Public Relations Employer of the Year
Future Inns Halifax Hotel & Conference Centre, New Tourism & Hospitality Management Employer of the Year
Master Promotions, Longstanding Public Relations Employer of the Year
Hotel Halifax, Longstanding Tourism & Hospitality Management Employer of the Year
Nova Scotia Liquor Corporation, Longstanding Business Administration Employer of the Year
Learn more about these award winners and hear what their nominators had to say on pages 16-19 of the annual report.
Co-op Spotlight
We ended the 2022 Co-op Annual Report with an interview of former MSVU tourism & hospitality management co-op student, Matt Brown. Matt had interesting insight into the benefits of WIL, what the tourism industry is doing, and what he thinks we can all expect of the industry in the future. Matt's successful trajectory – not without its difficult moments and times of uncertainty – is our idea of the perfect WIL success story. There is much to be learned from both the triumphs and failures of work. We hope our students take that message to heart as they embark on their next work terms.
We at the Co-op Office have enjoyed reflecting on another year of MSVU WIL excellence through the MSVU Co-op 2022 Annual Report, and we hope you will enjoy it too. Here's to another year of WIL!