By: Raina DeBrouwer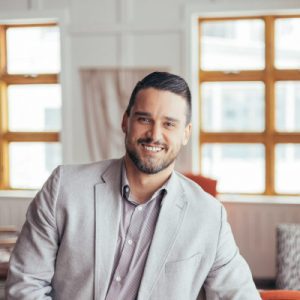 Matt Brown graduated from Mount Saint Vincent University's (MSVU) Tourism and Hospitality Management program in 2016. First establishing himself within the accommodations sector, then eventually taking the role of General Manager of a busy Halifax waterfront restaurant, Pickford & Black – Matt has established himself as an ambitious professional with a passion for the industry.
Now, with over twelve years of tourism experience, Matt has decided to try his hand at something new: teaching. He's made his way back to MSVU to teach a Restaurant Operations Management course to Tourism & Hospitality Management students on a part-time basis. Reflecting on this full-circle moment, we sat down with Matt to talk about his career so far and learn what he has his sights set on for the future.
Were you always drawn to the tourism and hospitality industry?
I actually came into the industry by accident. I got a summer job offer at the Fairmont Algonquin back in 2010. I was just looking to make money, but I really, really enjoyed it. I lived in this residence-style dorm with people I worked with. It was just a fun experience for someone in their early 20s.
I liked it so much, I ended up working a winter at the Fairmont Lake Louise property. That's what sealed the deal for me. I was Lead Banquet Server for massive events in their ballroom. We did the owner of the Calgary Flames' wedding. Very big events. After that, I moved home to Halifax and applied to the tourism and hospitality program.
Why did you choose to pursue an education in tourism instead of jumping right into work?
I know lots of successful people in the industry without formal education, although that was more common 10-15 years ago. I knew that I wanted to pursue this with the educational background to go with the hands-on experience. I wanted to have as many doors open for me as possible.
What made you choose to come to MSVU specifically?
I liked the idea of having a bachelor degree rather than a diploma. What also intrigued me about the program at MSVU was that you really do come out with a business degree as well as a tourism one. I took accounting, finance, economics and business policy courses. I got my business knowledge but within the frame of tourism and hospitality
Co-op was a definitely factor for coming to MSVU. My first permanent position after graduating from the Mount was Sales and Catering Manager at The Holiday Inn in Dartmouth. I graduated with a management title and an office. Having that work experience during my degree 100% benefitted me. Maybe I would have gotten there anyways, but not as quickly.
As a Hiring Manager now, people with co-op experience are on the top of my pile. We don't have time to train someone from the ground up. Hiring someone with co-op experience is an easy choice.
Would you say your education at MSVU positioned you well for your current work?
Absolutely. As much as I struggled with courses like finance and economics, I am now the general manager of a four million dollar per year establishment. I have to look at a lot of numbers. I wrote a business plan from scratch. I'm looking at spreadsheets all day. All the business courses are so relevant now, and I know that the higher I get in my career, the more financially in tune I'll have to be.
And now you're back at MSVU teaching part-time! Tell me about that.
Yes – I teach Restaurant Operations Management, which quite literally mirrors my day-to-day job. What I really enjoy about teaching this course is how realistic it is, it's not just theory. It covers the things I do at my job when I leave the classroom. And I'm able to bring those examples in to share with students.
I've always had my eye on teaching, and I've always kept MSVU close to my heart. I really loved my time here. I was on the MSVU Board of Alumni for two terms, which I enjoyed. I kept in contact with a few of my professors and put my name in the hat for teaching opportunities. I've certainly always had my eye on teaching and am excited to see where this leads me. I definitely enjoy it.
Going back to your co-op, your first two terms were at RCR Hospitality Group. What were your experiences like in those positions?
They were great. I was specifically at The Lord Nelson Hotel for my first two co-op terms, and it was a fantastic experience. My first term, I was a Banquet Server. I set up for events and tore things down afterwards. I ended up staying on part-time after my first work term and coming back for my second co-op. They offered me a Banquet Captain/Supervisor role so that was my first experience being in charge and having more responsibility.
For your third and third and final co-op, you made your way back to what was formerly the Fairmont Algonquin (now The Algonquin Resort) in New Brunswick. What was that like?
I absolutely loved it. Marriott bought it and put $45 million into the resort since I had last been there. They offered me a position in the fine dining restaurant, which was a new experience for me. I learned all about wine pairings and high-end dishes. It was a completely distinct food and beverage experience for me. I ended up there for one more short stint while job hunting post-graduation. It was perfect.
Then you found your way back to Halifax.
I was born and raised in Halifax. I know the industry, I know the area. There was a time when I wasn't sure I would be able to find a job and make enough money in Halifax. I thought maybe the opportunities were in Western Canada. But at the end of the day, I did make my way back.
Halifax has a defined culture: east coast hospitality, friendly, seafood…there is a real cultural identity. I'm optimistic about future of tourism in Halifax. There's been so much growth even just in the last year. Tourists are back. Everyone is busy. There are lineups at every restaurant downtown. It's great to see.
How has your career evolved since you graduated in 2016? Has it taken you where you thought it would?
Every successful career has its ups and downs. I was laid off for almost a full year during the COVID-19 pandemic. I wasn't sure about the future of the industry, and my future in it. I certainly didn't expect to become a general manager for a very busy restaurant in downtown Halifax.
At one point earlier in my career, I was poached to open up a food and beverage department at a hotel in Fredericton. Unfortunately, the hotel wasn't performing well and I lost my job as a result. It was hard – definitely a blow to the ego. But in hindsight, it was a great short-term experience. I was able to name a restaurant, design a menu, pick out cutlery, choose glassware. While it was a tough time in my career and had me questioning things, now I look back and am grateful that I had that experience.
How did you end up in your current role?
Two years ago, Pickford & Black was looking for an Assistant General Manager, so I applied. It was at a time during the pandemic where things were just starting to open again with restrictions. People were eager to get out, so it was a busy summer. I went in and worked hard. Within six months, I was the General Manager. And I credit this to a lot of those hard experiences I had earlier on.
What is your hope for your future of tourism and hospitality in Halifax?
I would love to see more of a focus on getting bigger cruise ships at our port. We're already seeing some of that. Five years ago, we weren't getting the massive influx of cruise ships that we see now. There are days in the summer when there are thirty thousand tourists coming into the city in one day. That's amazing for all local businesses, not just restaurants. I would love to see the city continue to focus on the international market, and the port is an asset there.
How do you hope to see your career continue to evolve?
I definitely have goals set for the next two to five years. I would love to eventually oversee a multitude of restaurants. I can see myself being on the executive board of a large tourism operation. I will also never close the door on teaching. Really, the sky is the limit. There are so many opportunities for growth at Murphy Hospitality Group. I'm happy to be with a company that has room for new expansion and growth.
What would you say to those considering a career in tourism and hospitality?
Go for the gusto. One of my managers back at The Algonquin would always say that: "go for the gusto". Don't hold back. If you have a passion for something, go for it. Don't be afraid to take risks. You learn from failures. Feeling uncomfortable means you're growing. One of my professors at MSVU always said that it's important to have a student mentality at all times. That stuck with me.
Now is a great time to be entering the tourism and hospitality workforce. Employers need talent, and they realize they have to pay good money to get it. Do your research when looking for work. If you're managing people, you should have RRSPs, two weeks paid vacation and benefits. Maybe you don't get the salary you want, but there are things you can negotiate into your contract. It's a good time to be coming onto the scene because your value is being understood. Go for the gusto.