Cultural Studies Committee
The Cultural Studies Committee is a group of faculty from various disciplines who meet regularly to discuss the program's development. The Committee is headed by the program Coordinator, Dr. Randi Warne.
For student advising on Cultural Studies, please contact the Coordinator.
All Committee members may be contacted on courses in their discipline.
Dr. Randi Warne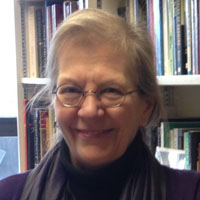 BA (Winnipeg), MA, PhD (Toronto)
Coordinator, Cultural Studies, Seton 326
Phone: 902-457-6280
Email: randi.warne@msvu.ca
Dr. Warne is an interdisciplinary scholar who has published internationally on gender theory, the material and idelogical conditions of knowledge production in the academy, and method and theory in the study of religion. Her ongoing interests include politics, gender, and religion; North American cultural history, including social reform movements; and material and popular culture. Dr. Warne is the Coordinator of the Graduate Women and Gender Studies program, and also the Coordinator of the undergraduate Cultural Studies program.
She regularly teaches core courses in Cultural Studies: CULS 1101 Cultural Studies: An Introduction; CULS 2201 Critical Debates: Regulating the Body; and the senior seminar, CULS 3301. Her other courses include CULS 3305 Subcultures. She also teaches RELS 2201 Evil; and a RELS/CULS 3380 special topics course Advanced Evil.
Dr. Tammy Findlay
Canadian Studies, Seton 324
Phone: 457-5402
Email: tammy.findlay@msvu.ca


Dr. Findlay's research interests are in the areas of Canadian politics, gender and politics, gender and public policy, social policy, community engagement, multilevel governance, and representation. She is currently working on two projects related to democratic governance, social capital, and child care policy in Canada, and is completing a book on women's representation in the Ontario public service. Findlay values interdisciplinary and community-based research that fosters social change, and has been involved in a variety of university and community service.
Laura Ritchie
Phone: 902-457-6290
Email: laura.ritchie@msvu.ca
Laura Ritchie is the Director/Curator of MSVU Art Gallery. She holds a BA in Art History from Mount Allison University and an MA in the same from Western University. She is a fellow of the Getty Leadership Institute's NextGen, Executive Education for the Next Generation of Museum Leaders. Laura has worked in collections and exhibitions management and visual arts administration for and with such Canadian art organizations as the Beaverbrook Art Gallery, the New Brunswick Crafts Council, the New Brunswick Arts Board, Museum London, the Tom Thomson Memorial Art Gallery and the Commonwealth Association of Museums. Laura was formerly the Head of Exhibitions and Collections Management at the Art Gallery of Alberta, and Curator at the Kelowna Art Gallery.
Dr. Fernando Nunes
Child and Youth Study, Evaristus 322
Phone: 902-457-6424
Email: fernando.nunes@msvu.ca
Dr. Fernando Nunes holds a Ph.D. (Education and Community Development), and a M.Ed. (Applied Psychology), from the Multicultural Focus of the Ontario Institute for Studies in Education of the University of Toronto. His prior research and publications have focused on at-risk immigrant youth, ethnoracial diversity, critical pedagogy, minority academic underachievement, the integration of the Luso-Canadian community and the Portuguese Diaspora. His current research activities focus on minority academic underachievement, the civic and political participation of immigrant youth and an international project dealing with the integration of second-generation Luso-Canadian youth.
Dr. Jonathan Roberts
History, Seton 514
Phone: 902-457-5404
Email: jonathan.roberts@msvu.ca
Jonathan Roberts is from Lantzville, British Columbia and he arrived at the Mount in 2008. He holds a BA and an MA from McGill University and a PhD from Dalhousie University.
Jonathan specializes in the history of medicine and religion in West Africa, with a particular focus on the history of healing in Ghana. As part of a project funded by the British Library, he is currently archiving witchcraft trial records held at shrines in Accra, Ghana. He is also interested in the politics of heritage tourism at slave forts in West Africa.
At the Mount, Jonathan teaches courses in African and World history. He has recently taught the following courses: World History, Cultural Encounters in the Modern World, the Early African Past, Modern Africa, and Religions in African History.
Dr. Diane Piccitto
English, Seton 516
Phone: 902-457-6763
E-mail: diane.piccitto@msvu.ca
Dr. Diane Piccitto is an Assistant Professor in the English Department at the Mount where she has been since the summer of 2015. She has a BA from Trent University, where she studied English and Philosophy, and an MA and PhD in English from Western. Her main areas of research are Romanticism, the poet-painter William Blake, drama and performance, as well as identity, action, gender, and sexuality. In addition to Romantic topics, her teaching and research interested include nineteenth-century literature, Shakespearean drama, queer theory, and film.