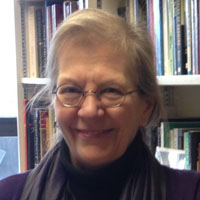 MA, PhD, University of Toronto
Dr. Warne is an interdisciplinary scholar who has published internationally on gender theory, the material and ideological conditions of knowledge production in the academy, and method and theory in the study of religion. Her ongoing interests include politics, gender and religion; North American cultural history, including social reform movements; and material and popular culture. She is currently supervising two theses, one on feminist performance art and disability, and another on the construction of madness in women's life stages.
Dr. Warne teaches core courses in the undergraduate Cultural Studies Program.
Dr. Warne regularly teaches core courses in Cultural Studies: CULS 1101 Cultural Studies: An Introduction; CULS 2201 Critical Debates:Myth America and the senior seminar, CULS 3305 Subcultures. She also teaches RELS 2201 Evil; RELS 3306 Religion and Popular Culture; RELS 3380 Women, Religion and Social Change; and RELS 3380 Special Topics, one of which is Advanced Evil.
Her publications include:
Reviews:

"Liminal Contradictions". Invited critical response to Arnal and McCutcheon, The Sacred Is the Profane: The Political Nature of "Religion". Oxford, 2013 for Method and Theory in the Study of Religion

Articles:

"The Land of the Second Chance." In The Prairie West as Promised Land, Francis and Kitzan (eds.), University of Calgary 2007.

"Gender" Guide to the Study of Religion, Braun and McCutcheon (eds), Cassell, 2000.

"Making the Gender-Critical Turn", Secular Theories on Religion. Jensen and Rotstein (eds,) Copenhagen, Museum Tusculanum Press, 2000.

"(En)gendering Religious Studies", Feminism in the Study of Religion. Darlene Juschka (ed.) Continuum, 2000. Rpt. Studies in Religion/Sciences Religieuses, 27/4.

Edited volumes:

New Approaches to the Study of Religion (2 vols.) with Armin Geertz and Peter Antes. Berlin: Walter deGruyter 2004.

Telling Tales: Essays in Western Women's History with Cathy Cavanaugh. UBC, 2000.