September 2021
Written by: Raina Debrouwer and Lisa MacNeil, Co-operative Education
Growing up, Shannon Paquette had always thought she would become a dentist. "That was my dream, I thought. I don't know if it was a dream of mine or something I was told to dream." Two years into her Bachelor of Science degree at Dalhousie University, however, she realized that it wasn't for her. Despite good grades and apprehension from her family, 18 years old Shannon dropped out of school and decided to follow a lifelong yearning for travel. "I started working in the hospitality industry in Halifax to save up. I just thought, I gotta go. I have to go see the world and travel."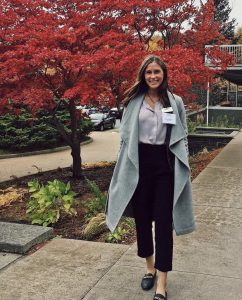 Shannon swiftly fell into a comfortable rhythm, one that's not uncommon to young adventure-seekers looking to explore the world. "I started this journey of working in bars and restaurants, saving, then travelling."
First it was four months backpacking across Asia. Then Shannon lived in the Netherlands for six months, taking every opportunity to travel around Europe. After a brief trip home to Halifax Shannon was off to Southeast Asia. It was here that she met a captain of a yacht, who encouraged her to get certified to work in the industry. Shannon's mind quickly took off with all the possibilities.
"Oh, I romanticized the idea of working in the Mediterranean and sailing across the Caribbean!" Shannon laughs. "Living life below deck. It was a nomadic lifestyle that I was so drawn to." In spite of the temptation this lifestyle, Shannon showed surprising restraint. "I thought, I'm 23 now. What happens when I'm 55 or 60? What does my life look like then? It was a pivotal moment of deciding whether to pursue this opportunity in front of me or find a way to explore my love of travelling in a more sustainable way."
Shannon began researching post-secondary options online. The tourism and hospitality program at the Mount stuck out to her particularly because of the co-op option. Soon after beginning the program, Shannon knew it was definitely the right fit. "As a mature student who knew of my love for the industry, I really immersed myself in the program. I loved the small classes. Rather than being one of 600 students in a class, I was one of 40. I just ate it up."
And ate it up, she did. Shannon took advantage of opportunities like the Learning Passport program and the Learners and Leaders conference. At an industry association event, Shannon made a move that would ultimately change the trajectory of her career. "I saw a man standing alone, and decided that I was going to go talk to him. He turned out to be the co-owner of Schools Out Tours. We got chatting and he offered me a position on the spot to host a group of students from Ontario during the Halifax Jazz Festival. I thought, 'This is incredible. This is what they mean when they say just go up and talk to people!'"
Shannon successfully hosted the students and learned a lot from the experience. When it came time to do her first co-op, this experience influenced her decision heavily. When she saw a Tour Director position with Atlantic Tours & Travel, she immediately applied. Shannon had a great interview and quickly found herself thrown into the world of commercial touring.
"I was leading 12-day tours through New Brunswick, PEI, Cape Breton and mainland Nova Scotia and I was responsible for 52 passengers. It was so challenging, I barely slept. They were such long days. I would be up with guests at 6am doing check-out, making sure everything was in order and preparing my scripts for the day. I'm not a public speaker, so that was something I learned on the job. I was with the guests until 7 or 8pm, sometimes having dinner with them after that. I made decisions on the road, kept everyone on schedule, was responsible for calling ahead to hotels, restaurants, and activities. I logged everything. I managed personalities, worked with the driver, navigated pick-ups and drop-offs…it was a lot of work and really challenged me, but in a good way. It was very exciting. I loved showing the guests Nova Scotia. I got so much instant gratification from it. Guests formed a real connection with each other and me. At the end of the 12 days, tears would often be shed. They would write me letters about what a lifechanging experience it was for them. It was just incredible. This was where my thirst for the tourism industry came. It was definitely a formative experience."
Shannon went on to complete her second co-op with the same company. She was scheduled to spend her third co-op introducing tourists to the beauty of Newfoundland when the COVID-19 pandemic hit. It was during this time of pause that Shannon was able to flush out an idea that had been percolating for some time. While working at Atlantic Tours, she had always wanted to elevate the guest experience in some way.
"I wanted to take them to a mom and pop shop, or invite them to go lobster fishing on my uncle's boat. I wanted to give them a really authentic experience that's hard to achieve with 52 guests. I just kept thinking that if tears were being shed at the end of a 52-person tour, what could we achieve with an intimate group of 6?"
Shannon dreamed of her own tours. She wanted to introduce small, authentic, off-the-beaten-path experiences. She wanted to promote sustainability and stimulate economic growth throughout the province, not just in traditional tourism hot spots. She wanted to integrate local people and traditions. She also wanted tours to be physically active — "rather than driving through the Cabot Trail, let's go out and go for a hike!"
An independent study course at the Mount called New Venture Creation allowed Shannon to turn this aspirational vision into a solid business plan. Thus, Ocean Playground Adventures was born. Shannon flushed out exactly what she wanted to offer guests, then was tasked with implementing her plan on a trial basis.
"I ran a four-hour beer and cider tour in Halifax. I worked with the cideries and breweries, developed an itinerary, marketed the tour, priced it out, chartered a bus, and performed the tour with the guests. It was a great learning experience. I was able to do a cost/benefit analysis of leasing a bus versus buying my own versus chartering, so that experience alone taught me a lot."
Evidently, Shannon's experiment worked. Since graduating, Shannon has partnered with a local developer to develop high-end tours for travellers on super-yachts. Shannon identified this niche that hasn't yet been tapped in Nova Scotia — travelers with high incomes who are looking for unique, luxury experiences.
"This winter we are doing a three-day snowmobile tour through the Cape Breton Highlands. Guests will arrive in Halifax and we will fly them by helicopter to Margaree Forks where they will stay on this stunning shed with over 900 acres of land. We're bringing in a chef from a local fine dining restaurant to come and cater for the weekend. We'll bring in snowmobiles from Cape Smokey and do three different trail tours directly from the resort through the Highlands. We will then fly the guests by helicopter to Glenora Distillery, do a ski day at Cape Smokey, ride the Gondola and do the treewalk."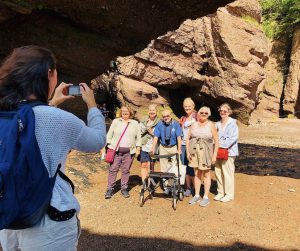 Beyond sustainability and active tourism, Shannon has made the ability to spread the wealth a key pillar of her business model. She envisions tours that pull in local merchants and organizations who will not only ensure an authentic experience for tourists, but also benefit from the exposure and solicitation.
At the end of the day, Shannon has a passion for creating memorable experiences for people across the world. She credits her co-op work experiences along with taking advantage of networking opportunities as key contributors to where she has ended up today. "I'm excited to see what the future holds".