August 2016
Written by: Lisa MacNeil, Coordinator, Co-operative Education
Magical. The word tourism student, Lauren Snider uses when describing her internship at Disney this summer. After a series of interviews over the winter, Snider was over the moon when the official offer came in for her to work as a Cast Member. Soon after, Lauren boarded a plane to the magical world of Disney in Orlando, Florida.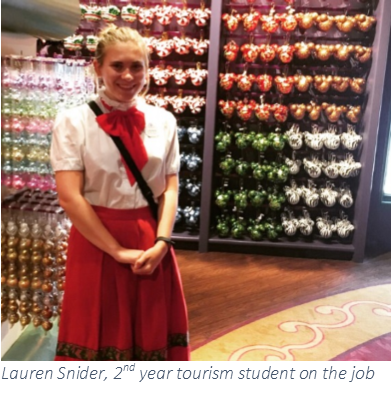 "I wanted to work at Disney since I was 12 years old. I feel like this was my main goal and I'm so happy I have been able to make it happen." Lauren took a leap of faith and made the move – her first time ever living away from friends and family. "It was intimidating at first but it forced me to step out of my comfort zone and to make friends. I have friends now from all over the world." Lauren lives with two young women who are also completing an internship with Disney. She has found this one of the most enjoyable parts of her experience so far. "It's great meeting people from different cultures and hearing about their homes. One of my roommates is from Mexico and it has been so cool to learn about her life. We share stories from home and do a lot of fun things together. We have French, English and Spanish all coming together!"

After completing Disney University, a week-long training program, Lauren was assigned to work at Disney Springs, which is the shopping, and dining and entertainment hub of the Disney resorts. In her role at the Wonderful World of Memories store, Lauren manages all aspects of operating a retail store. She handles merchandising, re-stocks shelves, operates the cash register and has learned to use the engraver and sewing machine to stitch those classic Mickey Mouse ears. She has also had a few shifts in the Christmas store. Through her experience, Lauren has developed an appreciation for providing the best customer service experience. "Many people have been saving for years to take a family trip to Disney. We have a role to play to make it memorable and to go above and beyond to make it the best experience."

And there has been no shortage of support provided for Lauren in her role. She was assigned a mentor in the first few days of starting and an on-site supervisor who she can approach with questions at any time. "It's nice having a mentor who has been in the role before and who appreciates being a student and learning. I just feel so lucky to be here."

When asked what advice she would share with other co-op students, Lauren says "Try something new – step outside of your comfort zone. I had an option to stay in Halifax, but I took a risk and am so glad I stepped out of my normal." Lauren encourages students to complete their own job search in addition to applying for jobs posted through the Co-op Office. "I was passionate about working for Disney and I got here. Anything is possible".

Not only is Lauren living her own dream, she feels she is getting so much out of being a part of the experience for visitors to the park. "It has been really rewarding seeing people come in the store and their eyes light up. Some people may think working for Disney takes away the magic, but being here makes it that much more magical."

It sounds like dreams really can come true.