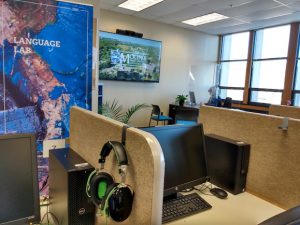 About the Language Lab
Language courses require students to spend some time practicing in the Language Lab every week. Many written assignments and some class tests also have a listening component, which is done in the lab. The Language Lab is open to students on a drop-in basis, except for the conversation groups with monitors, which you have to make an appointment. Monitors (senior students) are there to help you, not to grade you.
The Language Lab is located in Seton Academic Centre, room 333. It has 25 computers equipped with CD/DVD and Language Programs for student use, as well as a flat screen TV. The language lab supervisor is Enzo Le Doze.
In the Lab, you can…
Obtain info about the French Placement Test if you are new to our French program
Work at your own pace in an informal, friendly atmosphere
Practice listening and speaking using Audacity
Practice your pronunciation and vocabulary using Yabla and Rosetta Stone
Work on the exercises from the Lab manual used in your courses
Receive immediate feedback from lab monitors
Create, spell-check, revise with Antidote and print your assignments
Consult the reference library of real and on-line dictionaries and grammars
Watch course-related videos and movies in the language you study
Listen to French and Spanish music
Browse magazines and newspapers in French, Spanish, and Chinese
And more!
Fall 2022 Schedule
The Language Lab is open from Monday to Friday:
from 9:00 am to 12:00 pm and from 1:00 pm to 5:00 pm.
It is closed on Statutory Holidays.
To sign up for conversations, please go to the Language Lab Moodle page.