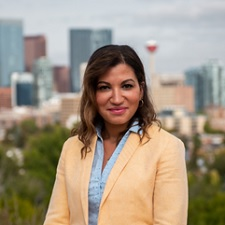 Dr. Maki Motapanyane
Ph.D. Women's Studies (York)
M.A. Women's Studies (Dalhousie)
B.A. Hons. w/ Distinction History and Political Science (UNB)
Email: maki.motapanyane@msvu.ca
Web: www.makimotapanyane.com
Dr. Maki Motapanyane teaches in subject areas that include feminist theory, postcolonial theory, feminism in Africa, global gender studies, colonial/postcolonial and women's social movements/political upheaval/social change, ecofeminism and liberation ecology, Hip-Hop culture, and motherhood. Her research projects and publications examine various feminist traditions in Africa, Black feminist epistemology, maternal theory and motherhood, childcare policy and the political economy of care, Hip-Hop culture, stand-up comedy, and equity and inclusion in organizational practice.
Community involvement and collective social justice efforts beyond the academy are an important part of Dr. Motapanyane's intellectual life. She has served on the programming committee of the North York Women's Centre (Toronto, Canada), with the Immigrant and Refugee Women's Program in Saint Louis (Missouri, USA), and has several years of experience as a mentor and counsellor to African Nova Scotian youth in Halifax and surrounding region (Canada).
Dr. Motapanyane is accredited in conflict resolution and mediation, having served as a mediator for the Calgary Provincial Courts Civil Claims Mediation Program, Alberta Justice and Solicitor General. She served as Chair of the Board of Directors for the Alberta Historical Resources Foundation (AHRF), an agency under the purview of the Ministry of Culture, Multiculturalism and Status of Women, and sat on the Advisory Board of Calgary's Future, an organization dedicated to recruiting, supporting and electing community leaders to municipal government. Dr. Motapanyane has also served as a Faculty Association Diversity and Equity Officer, and is an Editorial Board member of the academic journal Atlantis: Critical Studies in Gender, Culture, and Social Justice.
Research:
African feminist traditions
Black feminist epistemology
Childcare policy; political economy of care
Equity and inclusion in organizational practice
Feminist theory and methodology
Hip-Hop culture
Maternal theory and motherhood
Stand-up comedy
Teaching:
Black feminist epistemology
Colonialism/postcolonialism/decolonization
Ecofeminism and liberation ecology
Feminism in Africa
Feminist theory
Feminist methodology and methods
Global gender studies
Motherhood
Women's social movements
Selected Publications
Motapanyane, M. w/ McFarlane, A. (2020). Childcare as a public and common good: A Canadian perspective. In C. Zufferey & F. Buchanan (Eds.), Intersections of mothering: Feminist accounts (57-74). London: Rutledge.
Motapanyane, M. (Ed.). (2016). Motherhood and lone-single parenting: A twenty-first century perspective. Bradford: Demeter Press.
Calixte, S. L., Johnson, J. L., & and Motapanyane, J. M. (2016). Theorizing women's oppression and social change: Liberal, socialist, radical and postmodern feminisms. In N. Mandell & J. L. Johnson (Eds.), Feminist issues: Race, class and sexuality, 6th edition, (pp. 1-34). Toronto: Pearson Canada Inc.
Badruddoja, R. & Motapanyane, M. (Eds.). (2016). "New maternalisms": Tales of motherwork (Dislodging the unthinkable). Bradford: Demeter Press.
Motapanyane, M., & Dobson, K. (Fall/Winter 2015). Interrogating the language of diversity in academe: Motherhood and parenting in view. Journal of the Motherhood Initiative 6(2), 125-139.
Motapanyane, M. (2013). Nostalgia and poetry: Reflections on research, creative expression and fieldwork across borders. Atlantis: Critical Studies in Gender, Culture, and Social Justice 36(1), 12-21.
Motapanyane, M. (Ed.). (2012). Mothering in hip-hop culture: Representation and experience. Bradford: Demeter Press.
Motapanyane, M. (Spring 2011). Capitalizing on multiculturalism: Reading the success of Canadian comedian Russell Peters. TOPIA: Canadian Journal of Cultural Studies 25, 97-113.
Motapanyane, M. (2010). Insider/outsider: A feminist introspective on epistemology and transnational research. Atlantis: A Women's Studies Journal/Revue d'etudes sur les femmes (Special Issue: Across the Generations in Women's Studies) 34(2), 96-103.
Motapanyane, M. (2010). Notes on agency, empowerment and feminist consciousness: A look at South Africa. Nevi Sara Kali: Roma Women's Journal/Romane зuvleanqe зurnalo 2, 29-40.
Motapanyane, M. (Spring 2006). The Black female body and artist in Canadian hip-hop: The question of femini(st)ne space. New Dawn: Journal of Black Canadian Studies 1(1), 28-49.
Selected Awards
Distinguished Faculty Award 2020, Mount Royal University.
Knowledge Mobilization Award in recognition of outstanding contributions to research and scholarship at Mount Royal University (2019).
Alberta Professional of the Year (2016). Obsidian Awards: Southern Alberta Jubilee Auditorium.