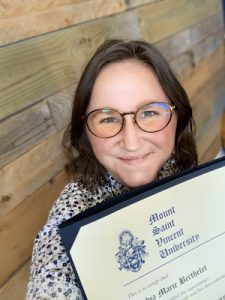 We're putting a much-deserved spotlight on our fall 2020 graduation award winners. These are the students who were honoured in our virtual ceremony on November 1 for their exceptional achievements. Though we couldn't spotlight them on the convocation stage, we're thrilled to celebrate these stand-out students through special features.
Alishia Berthelet
Bachelor of Arts (History) Honours | Hometown: Chilliwack, British Columbia
Alishia was the recipient of a Kappa Gamma Pi Prize. Membership to Kappa Gamma Pi, the National Catholic College Graduate Honor Society, is based on scholarship, leadership, and service. Originally from Chilliwack, BC, she holds a Quest Program Certificate from Columbia Bible College. She now resides in Bedford, NS.
Meet Alishia
Q: Why did you choose to study at MSVU?
A: I chose to study at MSVU initially because it was close to where I lived. Soon after enrolling I learned about MSVU's rich feminist history and the pioneering work of the Sisters of Charity who envisioned a higher education institution solely for women.
Q: How have you been involved on campus during your time as an MSVU student?
A: There are so many ways to get involved on campus at MSVU and during my time as a student I was able to be part of the library team, the Alexa McDonough Institute for Women, Gender, and Social Justice, and also part of the Pride Centre.
Q. What is your favourite location on campus and why?
A. My favourite spot on campus is the McDonald room, of course! A history student loves old books! Also, the fact that it is designated a quite space makes it a great spot to decompress on campus, and the chairs are also a great napping spot.
Q: What surprised you about MSVU (or your program)?
A: The thing that surprised me the most about MSVU was how willing staff and faculty are to help students. Especially during my thesis writing, my supervisor Dr. Walls was extremely supportive, and the library staff were always very helpful. Because the history department is smaller, it creates a unique learning environment where professors get to know you, your writing style, and your historical interests. As a student, you feel supported and know that you can reach out to your prof for guidance. I really had the best learning experience during my time in the History Department.
Q: What sort of extra-curricular activities were you involved in during your degree, on campus or off?
A: I worked on and off campus during my entire degree at MSVU. I worked in the MSVU library as a student assistant for two years, in the archives for a summer on a CN internship, and as a research assistant for Dr. Jennifer Brady and Lindsey MacCallum for the last three years. Off campus I worked as a butcher, an axe throwing coach, bartender, and trivia night host. I've worn many hats.
Q: Were you part of an experiential opportunity (co-op, practicum, internship) during your time at MSVU?
A: Yes, in the summer of 2017 I was hired in the archives at MSVU under a CN internship program. I got to spend the entire summer going through MSVU's Home Economics materials and organizing it into a searchable collection for researchers. [Read more about Alishia's research work]
Q: Tell us about your research involvement during your time at MSVU.
A: I wrote a thesis for my degree on love and learning at MSVU in 1926-1927. It focuses on the only student diary we have of Mary Dulhanty who was a commercial student in 1926, right at the time MSVU received a charter to grant its own degrees.
Q. Is there a particular course, book, experience or event you would recommend to others?
A. Take a women's studies course!
Q: What class, professor, project or learning activity has held the most meaning for you?
A: Dr. Walls teaches a Maritime Women's History course and during that class we had a trip down to MSVU's archives. The archivist, Lindsey MacCallum, showed us how to search and use the archives as well as introduced us to some of its unique items, one of which was Mary Dulhanty's diary. It was through this learning activity that I was inspired to write both my thesis, and a paper on MSVU's Women's Studies program, which won a library research award. Both projects involved extensive archival research and helped me to develop skills in library and archival research.
Q: If you could share just one piece of advice with your pre-MSVU self, what would it be?
A: To my pre-MSVU self: "Use the research help desk sooner!"
Q: Tell us about a favourite MSVU memory.
A: During my time in the MSVU archives, we took a day trip to the Sisters of Charity—Halifax archives at the Caritas residence. What was most impactful was seeing the display the Sisters had put together about their history working in residential schools, a difficult history to acknowledge. This was very impactful.
Q: No doubt wrapping up your degree in the middle of a pandemic was not how you'd envisioned it. Tell us what that experience was like. What did you learn about yourself through this process?
A: Thankfully, I had taken a few online courses before the pandemic, so transitioning to online learning for the latter half of the spring and my last two summer courses was not difficult. While walking across the stage would have been ideal, as I am the first in my family to graduate from university and it's taken a total of 15 years of full and part-time study to complete this BA, being able to still pick up a gown, and my parchment and awards, and take photos on campus felt very fulfilling.
Q: What's next for you?
A: I'm taking a year off from study and finishing up the History of Home Economics in the Maritimes project with Dr. Brady and Lindsey MacCallum. I am considering doing a Master's degree in either political science or Library and Information Management.
Q: Where do you see yourself in 10 years?
A: In 10 years, I see myself being involved in politics or government at the local or provincial level, or as President of Mount Saint Vincent University. We'll see where the sorting hat puts me.