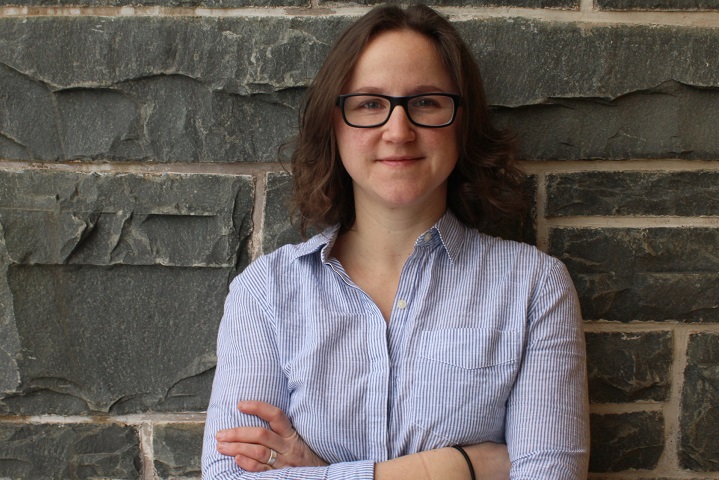 The Mount is home to some outstanding student researchers, chief among them History honours student Alishia Berthelet.
With the support of assistant professor of Applied Human Nutrition
Dr. Jennifer Brady
and Librarian (Archives and Scholarly)
Lindsey MacCallum
, Alishia has been documenting the history of the Applied Human Nutrition program at the Mount, which grew out of a home economics program. One of the Mount's first degree programs, home economics was established as a diploma in 1925 and became a degree program in 1927.
Today, the Mount's Applied Human Nutrition program is among the best of its kind in the country, but few are familiar with its history in home economics and its evolution over the years. As early home economics programs began to wane in popularity, the Mount's program transformed too.
Said Alishia, "[Mount degrees in the late 1920s included] home economics, secretarial studies and a few other ones that were in very female gendered fields. The home economics program was in place from 1925 until 1999 when it split into two: Family Studies & Gerontology and Applied Human Nutrition."

Alishia was awarded a CN internship last summer that kick started her archival research effort. The internship program connects undergraduate and graduate students to research opportunity, with a preference given to those doing research in areas related to women. It provided Alishia the opportunity to hone her skills in archival arrangement, research, description, digitisation, and metadata creation (among other areas).
Her work has continued since last summer. To date, Alishia has poured over reams of archival material, packaging pieces together into an accessible "fond" (as a collection of records is known within an archive). Her research has unearthed photographs (now digitized), student accounts of their experiences, a history of home economics in Canada, a clear history of home economics at the Mount and a list of faculty who were involved in the program.
The ultimate aim is for the material to be available online to other students and researchers. "The dream is to create the online go-to place for research on home economics," Alishia said.
In its earliest days in particular, the home economics program at the Mount played an important role in the advancement of women, providing training and mentorship to female students. "Being in a space run by women and seeing women in teaching positions and how that ultimately affected the program was significant," said Alishia. "It's a very important part of the Mount's history because it offered women opportunities to become teachers, dietitians and get jobs outside of the home and be professional workers."
While much of her research is now complete, Alishia continues to collect oral histories from former students and faculty who worked in the program towards adding more personal perspectives to the records. The collection now includes a solid administrative and structural program history. As well, Alishia is researching other similar (historical) home economics programs in Atlantic Canada so she can put the Mount program in context. She's also hopeful for some further research funding so that she and her research supervisors, Lindsey MacCallum and Dr. Jennifer Brayd, can extend that contextual piece to include the histories of home economics programs at universities beyond the region.
"Home economics is closely tied to the history of women's education and access to higher education in Canada and in the United States," noted Alishia. "A lot of people view home economics as cooking, sewing, and stitching, but there are arguments that home economics actually exposed women to administrative positions and leadership roles, and the sciences as well, which I feel is really important for our history as women."

Fittingly, Alishia was recently named the 2018 student recipient of the "Library Research Award" – an award presented at the Mount's Student Academic Awards ceremony earlier this month. This fall, she hopes to further her studies in graduate school, with a continued focus on women's education and women's history.

An excerpt from a 1934 Mount Saint Vincent College year book: