Apple Breakfast Bread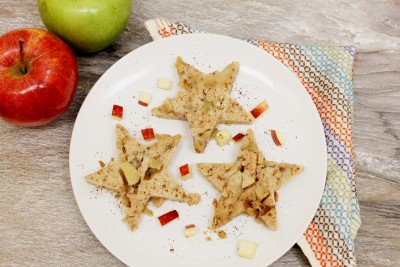 Recipe makes: 12 servings (1 slice per serving)
Preparation time: 20 minutes
Cook time: 1 hour
Equipment: one cutting board, one knife, one set of measuring cups, one set of measuring spoons, parchment paper (optional), one 20 * 20 cm (8 * 4 inch) loaf pan, one small bowl, two spoons, one medium mixing bowl, one large mixing bowl, one fork or hand-mixer, one rubber spatula, one oven, one pair of oven mitts, one cooling rack or plate, one serrated knife
What you need to make this recipe: 
Cooking spray or butter
5 tablespoons water
2 teaspoons chia seeds
2 cups all-purpose flour
1 teaspoon baking soda
½ teaspoon salt
1 teaspoon ground cinnamon
½ teaspoon ground cloves
2 tablespoons butter
½ cup sugar
½ cup unsweetened applesauce
2 eggs
2 apples, peeled, cored, and finely diced
How to make Apple Breakfast Bread: 
Step 1: Preheat the oven to 175°C (350° F).
Step 2: Prepare the loaf pan:
Option 1: Lightly grease the loaf pan with cooking spray.
Option 2: Lightly grease the loaf pan with butter using parchment paper.
Step 3: In a small bowl, stir together the water and chia seeds using a spoon. Let sit for 10 minutes.
Step 4: In a medium bowl, stir together the flour, baking soda, salt, cinnamon, and cloves using a spoon.
Step 5: In a large bowl, combine the butter and sugar using a fork or hand-mixer until smooth.
Step 6: Add the applesauce, eggs, and chia seed mixture to the butter and sugar. Stir, using a spoon, until combined.
Step 7: Add the dry ingredients to the wet ingredients. Using a rubber spatula, stir until combined.
Step 8: Add the apples to the batter. Using a rubber spatula, stir until the apples are mixed into the batter.
Step 9: Pour the batter into the loaf pan.
Step 10: Using the back of a spoon or a rubber spatula, press the batter evenly into the pan.
Step 11: Bake in the preheated oven for one hour or until a toothpick inserted in the center comes out clean.
Step 12: Remove the bread from the oven and cool for 15 minutes.
Step 13: After 15 minutes, remove the bread from the loaf pan. To do this, run a butter knife between the bread and the side of the loaf pan, then gently shake the bread out of the pan. Put the bread on a wire rack or plate to finish cooling.
Step 14: Cut the bread into 12 slices and serve.
Allergy information:
Contains wheat, gluten, milk, and egg.
About this recipe:
The applesauce helps sweeten the bread, so less sugar is needed. Choosing foods that are lower in added sugar is part of a healthy diet.
Substitutions:
To make this recipe gluten-free, use all-purpose gluten-free flour and certified gluten-free chia seeds.
Storage information:
The bread can be stored in an airtight container in the fridge for up to 3 days or in the freezer for up to 3 months.
Nutrition Facts Table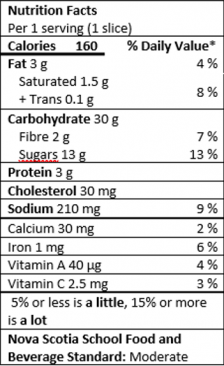 Print recipe card with no photo
---