Several Paths To A Rewarding Career
Bachelor of Business Administration
Our Bachelor of Business Administration (BBA) is designed to meet your needs and interests. We will provide you with a solid foundation in business, whether you decide to enter into our General Studies Program or focus on a specific area of business such as:
This is a four year program consisting of 20.0 units of course work. You can plan your program with the help of an academic advisor and our planning sheets.
Co-operative Education Opportunities
In your second year you will be eligible to enter the Co-operative Education BBA program which alternates terms in the classroom with hands-on paid work opportunities in your field of study that consists of a minimum of 13 weeks of full-time employment. The program consists of 23.0 units of study over four years.  You graduate with one full year of relevant work experience. That alone will make it easier for you to find the starting position you want.
The Honours Bachelor of Business Administration
You have the option of completing an Honours BBA during the regular four-year program. You must complete a thesis and specific courses and have a GPA of 3.0 in all of the required courses. There is an application process to complete after 12.5 units of study. An advisor can help you plan your program.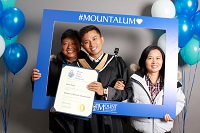 If you have already earned your BBA you can take the Honours Certificate which will make your credentials equivalent to that of an Honours BBA. You simply need to meet the requirements for the Honours degree.
The Certificate and Diploma Programs
If a four-year BBA is not the right program for you, you can still earn a solid business education with academic credentials in two other programs: certificate and diploma. You can also take these programs in sequence, earning the appropriate credential, as you work toward your BBA degree. This gives you the opportunity to earn your degree with less of an up-front financial or time commitment.
The Certificate in Business Administration consists of 6.0 units in business administration. When you complete the program, you will have a basic understanding of the core business functions of management, marketing and accounting, with an appreciation of how business interacts with the economy.
The Diploma in Business Administration consists of 12.0 units of study. This program gives you the basic understanding and more. If you have earned a Certificate in Business Administration, you can enter this program and earn your diploma just by completing the additional 6.0 units of study. Once you have your Diploma in Business Administration, you can get your BBA by completing another 8.0 units of study.
Get more details:
With the flexibility of the stepping stone approach of certificate-diploma-degree, you can follow your dream of getting a university education while making time for family, work and self.