Dr. Tianyuan Yu, Associate Professor, Management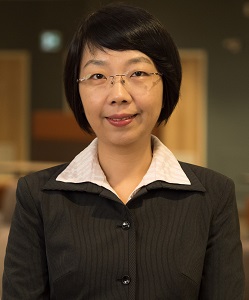 Tianyuan Yu is an Associate Professor in the Department of Business and Tourism at Mount Saint Vincent University in Halifax, Canada. She holds a PhD in Management from Sun Yat-Sen University, China and has been doing her second PhD in Management at Sobey School of Business, Saint Mary's University since 2015.
Tianyuan possesses extensive teaching experiences both in Canada and in China. Prior to joining the Mount, She worked as a full-time Assistant Professor (term position) as well as in various part-time teaching positions at Saint Mary's University during 2013-2016. Before coming to Canada, she was an Associate Professor and Chair of Department of Business Administration at Beijing Normal University, Zhuhai during 2003-2013 and won many awards for her teaching excellence.
Tianyuan's research interests include management spirituality and religion, gender and diversity in organizations, management and organizational history, management education and pedagogy, cross-cultural management, and multi-paradigm research methodology. She is particularly interested in conducting interdisciplinary, multi-paradigm research, informed by the rich cultural heritage of Chinese history and philosophies (e.g., Zen Buddhism, Daoism and Confucianism). She is currently exploring how Zen Buddhism informs spiritual research paradigm, feminist spiritual leadership, and management education. She aims to develop a Zen-informed spiritual research paradigm that fundamentally transcends the mainstream functionalist paradigm in terms of ontology, epistemology, axiology, methodology, and evaluation criteria.
Tianyuan is dedicated to promoting intercultural communication and cross-cultural education because of her research interests and cross-cultural experiences. She is passionate for advancing mutual understandings between the East and the West, and searching for an innovative, hybrid way of rethinking knowledge of management and organization studies that crosses geo-political borders.