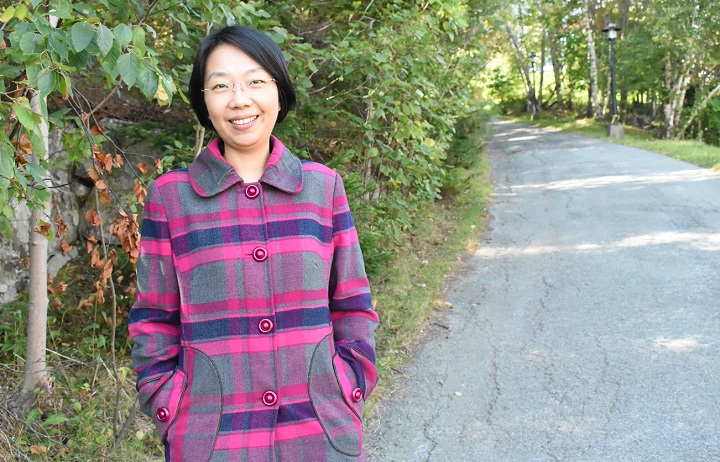 Meet Dr. Tianyuan Yu
Born and raised in Northeastern China,
Dr. Tianyuan Yu
believes that the best teacher we have is ourselves. From a young age, Tianyuan learned the importance of being independent and working hard to achieve your goals. When Tianyuan was ten years old, her mother was paralyzed in a traffic accident and a few years later her father left the family. "I realized I had to rely on myself and that I would have to work hard to change my fate. I made up my mind to study hard in order to survive and to be able to look after my mother when I grew up."
After being urged by her teachers to pursue a career in the business field, Tianyuan chose to study at Nankai University which is well known for its International Finance programs. Tianyuan completed both her Bachelor's and Master's degrees in Economics (with a major in Finance) at Nankai.
In 2003, she started teaching Economics and Finance at Beijing Normal University, Zhuhai. Although Tianyuan enjoyed teaching and interacting with students, she did not feel she was teaching on topics she felt truly passionate about. Her perspective changed when she was selected by her Dean to travel to De Montfort University in Leicester, England as a visiting academic to pursue graduate level courses in the field of management.
Her time at De Montfort was the start of Tianyuan's research career in the management sector. Upon returning from England, Tianyuan decided to pursue her PhD in Management. In 2006, she started studying at Sun Yat-Sen University (AKA Zhongshan University). "My passion had always been humanity and people. I love history, literature and philosophy. Management allowed me to understand people on a different level."
After completing her first PhD, Tianyuan continued teaching Macroeconomics and management courses and also served as Chair of the Department of Business Administration at Beijing Normal University, Zhuhai. In her role as Chair, she had the opportunity to visit Saint Mary's University in 2012. This was her first time visiting Canada and she immediately fell in love with the area.
---
"The job description fits me. I know a lot about Chinese culture and students, and I want to help promote the cooperation between international students and the Mount. I consider this my life mission because I have been on both sides. I can be a bridge and have found my place here."
— Dr. Tianyuan Yu on her new role at the Mount
---
A serendipitous interaction
"I spent a week in Halifax and I loved it. Everyone was so friendly and welcoming." As part of her visit, Tianyuan attended a workshop where she had what she describes as a "serendipitous interaction" with a man by the name of Dr. Albert Mills, a Management Professor and Director of the PhD Program at Saint Mary's University.
"I met Dr. Mills at a seminar and we found overlaps in our research. We started talking about our research interests and our philosophical orientation in terms of methodology, post-modernism and we connected quite profoundly. After the delegation, he sent me a paper he had published and I made some comments and sent it back to him for review. I think I impressed him and he invited me to come back to Saint Mary's as a visiting scholar."
Six months after her visit to Halifax, Tianyuan accepted Dr. Mills' offer to continue her research career in Canada. "I was chasing a more meaningful life. I had to take a chance for me and my family."
The move was not an easy one. Although Tianyuan enjoyed working alongside Dr. Mills, she and her husband struggled to find permanent jobs. They were adjusting to a new culture and re-building their lives in a new country. "I told Dr. Mills that I was running out of money and I was not confident in my English language abilities. I was going to leave Saint Mary's and to teach Chinese language at Dalhousie University. He told me not to leave and said that I would make a great business professor. He gave me a "radical suggestion" to complete a second PhD in Management where I could work under him while receiving a PhD scholarship. I accepted on the spot because there were many people competing for the opportunity to study under Dr. Mills."
Tianyuan completed her GMAT (as required by the PhD admission policy) and scored 750, ranking in the top 2% in the world. "This was my way of assuring Dr. Mills that he made the right choice. I also felt I needed to prove myself. My previous experience was devalued when seeking employment in Canada and I wanted to show my competence."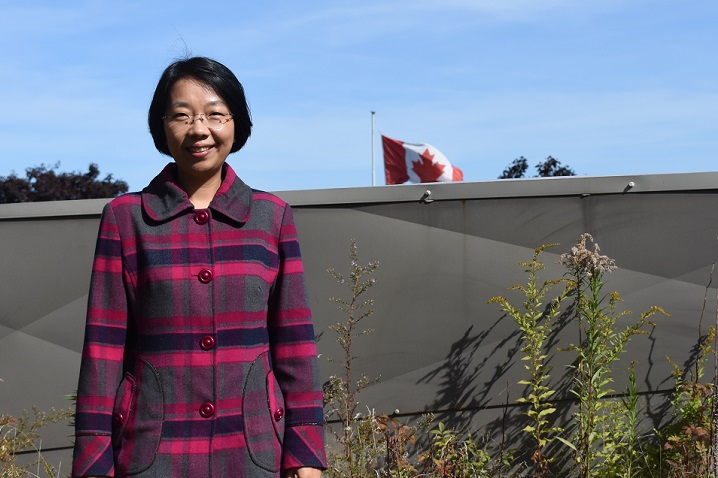 Bridging gaps for students
Tianyuan feels her decision to pursue a second PhD in Canada has opened up doors for her. The most rewarding outcome has been receiving a tenure-track position as Assistant Professor in the
Department of Business
and
Tourism
at the Mount. "The job description fits me. I know a lot about Chinese culture and students, and I want to help promote the cooperation between international students and the Mount. I consider this my life mission because I have been on both sides. I can be a bridge and have found my place here."
---
"I am quite sensitive to cultural gaps and am still in the process of integrating into the Canadian workplace myself. I try to remind my students of their own cultural assumptions that may not be applicable to some of their fellow students."
---
Last fall, Tianyuan taught the course Managing Diversity, exploring topics such as gender stereotypes, sexual orientation, religious diversity, as well as racial and ethnic issues. This has been one of her favourite courses to teach as she feels students are able to learn from one another through sharing their own experiences. Tianyuan has also been able to apply some of her research findings in her classes when facilitating discussions on cultural differences in the workplace and in post-secondary institutions. These topics are increasingly important for students to understand the role of diversity and inclusion in building businesses.
Enhancing cultural sensitivity and promoting inclusivity
Tianyuan is passionate about doing cross-cultural studies informed by Chinese history and philosophies. She is currently engaged in a multi-paradigm analysis of the autobiographies written by Pan Am Airway's expatriates in China during the 1930s and 1940s, applying the positivist construct of cultural intelligence, and the postcolonial notions of ambivalence and hybridity. She is also conducting research on the challenges faced by Chinese immigrants in Western workplaces. Her findings indicate that the biggest cultural challenges faced by Chinese immigrants tend to be related to the objective aspects of culture – things like language, local knowledge about the social, economic and political systems, pop culture, literature and history.
In another research project, Tianyuan and her co-investigators are examining whether students who come through the internationalization initiative in Canadian post-secondary institutions are gaining enhanced cultural competency. Early findings from their research suggest that it is simply not enough to bring students from different countries together but rather there is more work to be done on getting students to connect. Tianyuan's ultimate goal is to develop programming to help promote inclusivity and to enhance cultural competence among local and international students. She is also hopeful that professors can use her research findings to inform their teaching methods and to encourage students from various cultures to share their ideas.
"I am quite sensitive to cultural gaps and am still in the process of integrating into the Canadian workplace myself. I try to remind my students of their own cultural assumptions that may not be applicable to some of their fellow students. I think my job is to help my students teach themselves and to encourage them to learn from one another."
When asked what advice she would give to students, Tianyuan responds: "Never give up on your dreams. When one door closes, you always have to look for the open door and chase your dreams. I didn't have a clear career plan and no one talked to me about the importance of following my passions. I saw a quote on a bench at the University of Ottawa and it said 'it's never too late to be what you might have been.' At the time, I was 34 years old and I never thought I would have re-located to another place, but I did and it was the best decision I have ever made."