A team from Nova Scotia and Manitoba was recently awarded more than $860,000 from the Canadian Institutes of Health Research (CIHR) for a new research project that will seek to better understand the experiences of older adult home care clients with chronic and long term conditions through the home care system. The aim of the four-year project, titled "How approaches to care shape the pathways of older adult home care clients," is to better understand how policy, practice and decision-making shape a client's journey through the home care system.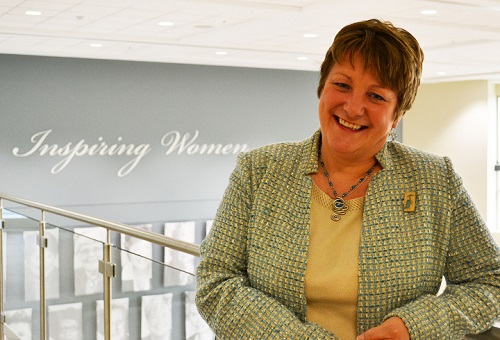 The project is under the direction of Dr. Janice Keefe (pictured at right), Mount Saint Vincent University, in partnership with the Nova Scotia Health Authority, University of Manitoba, Dalhousie University, Saint Mary's University, Winnipeg Regional Health Authority and other policy and practice stakeholders such as: Northwood, Nova Scotia Department of Health & Wellness, Manitoba Caregiver Coalition, Caregivers Nova Scotia, Canadian Home Care Association and Health Canada.

Across Canada, increasing emphasis is being placed on supporting older adults to live at home for as long as possible. Differences in how home support is delivered may mean that client and caregiver experiences through the home care system may differ depending on where one lives. The study will explore how the individual experience of clients and their caregivers is shaped by different models of care. Presently, there is a need for cross-jurisdictional knowledge on home care models for older adult clients and this study will help to fill that gap.

"Receiving this funding is significant given the highly competitive environment for research dollars. Our success is a testament to the need for the evidence that this research will produce and the caliber of the research team involved in the study," said Dr. Keefe. "Our project will make a significant contribution to knowledge to improve the system, and by involving partners who deliver services and shape policy, we will reach those who need this evidence to enhance services for the client and their caregiver."

Using mixed methods, this cross-jurisdictional study will identify, specify and characterize types of pathways, and analyze the factors that shape them. Activities will take place in Nova Scotia (NS) and Manitoba (MB), through three interrelated and overlapping research streams. "Retrospective data analysis, interviews with clients, caregivers and workers and an analysis of key policies will provide our multi-disciplinary team with rich data and important context," said Dr. Michelle Lobchuk, Manitoba Site Lead, Faculty of Health Sciences, University of Manitoba.

Study outcomes will be used to project home care utilization, inform strategic planning and decision making, and support changes in care practice. NS and MB have distinct geographic and cultural compositions, but similarities in terms of population and rural-urban issues. Both are experiencing population aging and increased demand for home care services.

"This research is timely, relevant and critically important to support change in how we provide care and support to individuals and families who need it in Nova Scotia and elsewhere in Canada," said Susan Stevens, Senior Director, Continuing Care, Nova Scotia Health Authority and Principal Knowledge User for the project. "This is about understanding home care from the inside out, so that we can improve our approach to the care and service we provide."

The project includes an established interdisciplinary team with several of Canada's leading experts in home care and caregiving research. Service providers and senior-level administrators of Health Authorities and Provincial Ministries are actively engaged in the research. Voices of home care users and caregivers are included through representation of caregiver groups.

This project is funded by the Canadian Institutes for Health Research. The project starts April 2018.




Media contacts:


Elaine MacFadyen
Communications Coordinator
Nova Scotia Centre on Aging
Mount Saint Vincent University
902-457-6546 (NSCA Office main line)
902-457-6322 (direct)
Gillian Batten
Manager, Communications
Mount Saint Vincent University
902-457-6439