The Breakfast and Beyond Program is a nutrition and foods program based out of the Centre for Applied Research in Human Health at Mount Saint Vincent University. It is delivered in partnership with its community partners, including the Breakfast Program Association of Fairview. The Breakfast Program Association of Fairview supports school breakfast programs at Fairview Heights Elementary School, Burton Ettinger Elementary, and Fairview Junior High.
The partnership with The Breakfast Program Association of Fairview developed from the long-standing, rich relationship between the Department of Applied Human Nutrition at Mount Saint Vincent University and the Association. Since 2010, the Department has supported delivery of breakfast programs through The Breakfast Program Association of Fairview. This support is provided on a volunteer basis by students and faculty and includes food preparation and delivery.
Program Mission, Values, and Goals
Mission
Create a community of practice regarding healthy eating in Nova Scotia by bringing food knowledge to action for elementary and secondary school students, their families, and communities within the province.
Values
Healthy
Accessible
Affordable
Engagement
Community-focused
Goals

Develop locally sourced, healthy, and affordable recipes that are in-line with Canada's Food Guide recommendations, Canadian food labelling regulations, and the School Food and Nutrition Policy for Nova Scotia Public Schools.
Create education opportunities for children, youth, and their families to develop food knowledge and skills.
Provide training opportunities for applied human nutrition students and interns to create educational materials using evidence-based methods.
Evaluate the program materials using qualitative research approaches that engage students, parents, teachers, and community members.
Program Methodology
As shown in the figure below, the program methodology is informed and structured by integrative knowledge translation. Development of the program education materials occurs through recipe development, education framework development, and consideration of stakeholder and community factors. Each of these activities informs the other two and all are influenced by stakeholder evaluation and feedback.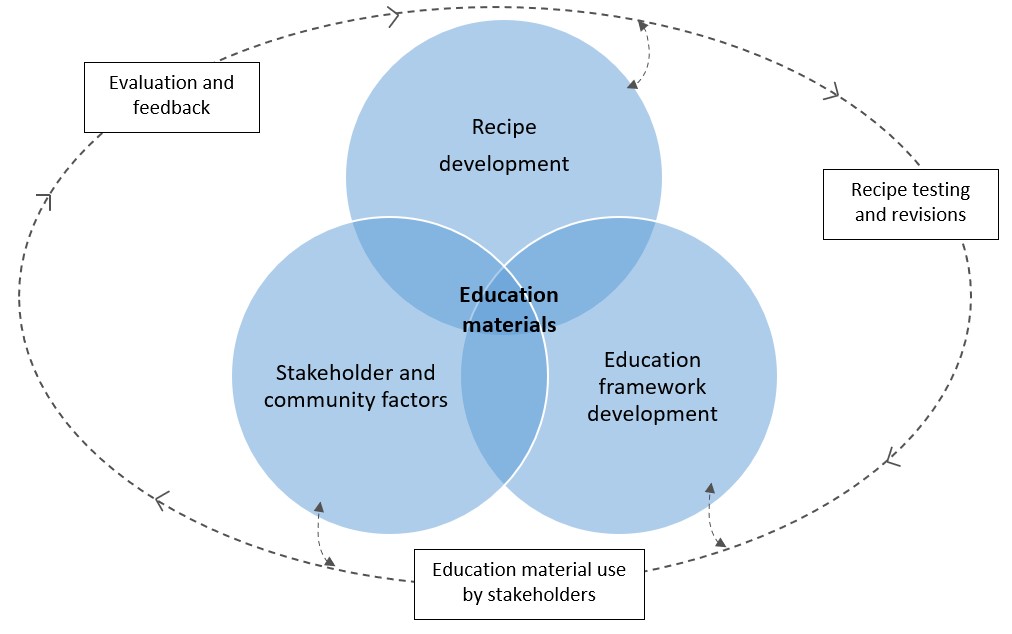 ---
Breakfast and Beyond Program Home