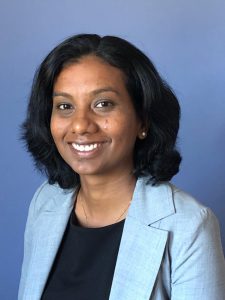 Priya Kathirvel, Phd
Adjunct Professor, Department of Applied Human Nutrition
priya.kathirvel@msvu.ca
Education and Training
Post-doctoral Fellow (2009-2011)
Dalhousie University, Faculty of Agriculture, Truro, NS, Canada
PhD, Animal Science (2009)
University of Wisconsin-Madison, Madison, USA
MFSc, Fish Nutrition and Biochemistry (2003)
Central Institute of Fisheries Education, Mumbai, India
BFSc, Fisheries Science (2001)
Kerala Agricultural University, Cochin, Kerala
Teaching Areas
Introductory Foods: Plant Origin (NUTR 1102)
Introductory Foods: Animal Origin (NUTR 1103)
Issues in Food Product Development (NUTR 4400/GAHN 6400)
Research Interests
Dr. Kathirvel has a background in food science and her primary research interests have been in the areas of food chemistry & analysis and functional food product development. Her earlier research focused on the extraction, isolation and characterization of polyphenolic compounds from fruits and studying their antioxidative potential and mechanisms of inhibition of lipid oxidation in various food systems. Dr. Kathirvel worked as an Associate Scientist in R&D, Analytics at DSM Nutritional Products before joining MSVU. Currently, Dr Kathirvel is integrating her expertise in food science into the disciplines of human nutrition and physiology. At MSVU, Dr. Kathirvel works on collaborative projects in functional food product development and clinical trials to investigate the effects of whole foods and/or functional food ingredients on human health.
Other Activities
Coordinator of annual food product development competition -'Mission Delicious' at MSVU

Team Manager- Food Product Development for 'Breakfast and Beyond' program funded by Medavie.
Book Chapters
Kathirvel P, Joy P, Luhovyy BL. 2015. Food and nutraceutical applications of chinese herbal products. In: Dietary Chinese Herbs –Chemistry, Pharmacology and Clinical Evidence (Ed.) Liu Y, Yanze W, Zhang J, Springer-Verlag Wein. ISBN: 978-3-211-99447-4.pp. 3-21
Kathirvel P. and Rupasinghe HPV. 2012. Plant-derived antioxidants as potential omega-3 PUFA stabilizers. In: Fish Oil: Production, Consumption and Health Benefits (Ed.) Van Dijk M and Vitek J. Nova Science Publishers, Inc. Hauppauge, NY, USA. ISBN: 978-1-61470-963-3. pp. 157-186.
Recent Publications and Presentations
MacEachern E, Xu Y, Kathirvel P, Luhovyy BL. Milk protein fractions in liquid and solid matrices and their sensory perception. American Dairy Science Association (ADSA) Virtual Meeting, June 21-24, 2020.
MacEachern E, McDowell A, Kathirvel P, Ritter M, Luhovyy BL. The perception of chocolate milk by older adults: the role of added sugar and fat content. Canadian Nutrition Society: 2020 Scientific Abstracts. Applied Physiology, Nutrition, and Metabolism, 2020, 45:S31-S32. https://doi.org/10.1139/apnm-2020-0129
Kathirvel P, Yamazaki Y, Zhu, W, Luhovyy BL (2019). Glucose release from lentil flours digested in vitro: The role of particle size. Cereal Chemistry, 96, 1126-1136.
Luhovyy BL, Lam CYL, Smith B, Kathirvel P, Ritter M. The sensory perception of chocolate milks varying in fat and added sugar content by children. 13th Pangborn Sensory Science Symposium, July 28-Aug 1, 2019, Edinburgh, UK.
Boachie R, Martynenko A, Mather K, Chen Y, Anini Y, Joy P, Kathirvel P, Luhovyy BL. The Glycaemic Effect of Blueberry Beverage Prepared with Hydrothermodynamic Processing in Young Adults (FS14-02-19), Current Developments in Nutrition, Volume 3, Issue Supplement_1, June 2019, nzz038.FS14-02-19.  https://doi.org/10.1093/cdn/nzz038.FS14-02-19
Luhovyy BL, Lam CYL, Smith B, Kathirvel P, Ritter M. The sensory perception of chocolate milks varying in fat and added sugar content by human adults. Eurosense 2018. Eighth European Conference on Sensory and Consumer Research, September 2-5, 2018. Verona, Italy.
Luhovyy BL, Hamilton A, Kathirvel P, Mustafaalsaafin H. (2017). The effect of navy bean flour particle size on carbohydrate digestion rate measured in vitro. Cereal Foods World, 62 (5), 208-213.