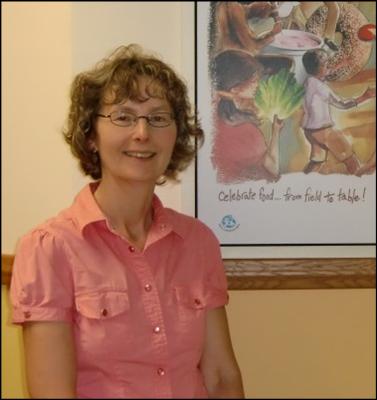 Judy Fraser Arsenault, MAHE, PDt
Internship Education Program Coordinator
Lab Instructor
Evaristus 308
Phone: 902-457-6145
Fax: 902-457-6134
As Internship Education Program Coordinator, I am responsible for the administration of the Internship Education Program. I work with a large number of diverse Sponsoring Organizations across the Atlantic region and other parts of Canada to maintain internship placements that provide valuable learning opportunities for MSVU interns. There are currently 60 interns in the MSVU Internship Education Program representing the BScAHN and MScAHN programs.
My other interests are directly related to my teaching. I have an avid interest in foods and I am the Lab Instructor for both the introductory and senior level foods courses. I am also the Lab Instructor for Medical Nutrition Therapy which focuses on the `hands-on' applied aspect of a clinical dietetics. Another interest is Nutrition and Lifestyle and I have taught courses to various organizations and made presentations at several conferences on a variety of topics related to this area.
I have been a member of the University's Joint Occupational Health and Safety Committee for many years and currently hold the position of Co-Chair. I also serve on the MSVU Faculty Association Negotiating Committee.
I am a member of the Nova Scotia Dietetic Association and Dietitians of Canada.
Most recent publications/presentations:
Ortman D, Mann L, Fraser Arsenault J. Perceived roles, benefits and supports for dietetic internship preceptors. Can J Diet Prac Res. 2010;71(1):33-38.
Presentation 'Prior Learning Assessment' to Tri-District Dietitian's Networking Meeting/Conference, September, 2009.
Presentation `Intern Mentorship' to New Brunswick Health Region 2 Dietitians, June 2008.
Presentation `Living Your Best with Inherited Heart Disease' Annual IHD Conference, May, 2008.