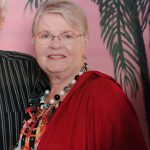 Dr. Margaret Bateman Ellison
Professor Emerita
Email: briarwoodbob@aol.com
Home Economics Vocational Teacher's License (New Brunswick Teachers College) 1963
Permanent Home Economics Type A Certificate (Ontario College of Education) 1967
B.S.H.E. (Mount Allison) 1965
B.Ed. & Intermediate Guidance Certificate (University of New Brunswick) 1969
M.S. non-thesis Interior Design and Housing (University of Tennessee) 1977
Minor:  Foodsystems Administration
Collateral Area: Urban, Regional and Facility Planning; Environmental Design
PhD. Interdisciplinary, Environmental Factors (University of Tennessee) 1980
Dissertation: Consumer Assessment of Residential Energy-Conserving Innovation
Certified Hospitality Educator (Educational Institute American Hotel & Motel Association) 1995
Dr. Bateman Ellison joined Mount Saint Vincent 1981 as a member of the Home Economics Department and immediately became involved in developing a degree program in tourism and hospitality management (BTHM). A program that drew upon input from the industry, established articulation agreements with two-year programs and included a compulsory co-operative education component. When the BTHM program was launched in 1986 she taught mandatory courses (fundamentals of design and lab, facility management and field lab, environment and facility planning and field lab) all cross-listed in the BTHM and the BHE programs.  She was cross- appointed in both programs until 1999 when she was appointed fulltime as associate professor in the Department of Business and Tourism after the Department of Human Ecology (formerly Home Economics) was discontinued. In addition to mandatory courses over her 20 years with the BTHM Program, Margaret also developed and taught the following courses: research methods seminar, event and meeting management, issues in tourism, accommodation and leisure operations, design management, several special topics in hospitality management, numerous directed studies, and led study tours (at home and abroad), as well as supervised students in co-operative education work-terms.
From the beginning of distance education at MSVU, Margaret was actively involved in teaching courses and promoting DUET (Distance University Education via Television) as an approach to pedagogy with great potential for tourism and hospitality human resource development. Initially she coordinated a non- credit energy management course for the industry and in later years developed BTHM distance education course packages for on and off-campus students. In addition to developing courses, she was a contributor to the first two editions and lead author of the third edition of the Canadian textbook, Passport: An Introduction to the Tourism Industry. (2003)
Margaret's academic research related to sectors in tourism and hospitality focused on environmental assessment of the built environment. It included: a. facility accessibility in Atlantic Canada, b. total quality management case studies at: Sheraton Hotel Halifax, Delta hotels in Toronto and Vancouver, and Opryland Hotel Nashville, c. accommodation operation case studies, as well as, d. information technology diffusion in the Halifax foodservice sector.
Her professional and volunteer service during the 24 years at MSVU ranged from serving on program and university committees to provincial, national and international industry related boards and committees such as: Tourism Industry Association of Nova Scotia, the Canadian Tourism Human Resource Council, Council of Hotel Restaurant and Institutional Education, International Facility Management Association Education Council. In 2010 the Tourism Industry Association of Nova Scotia presented a Human Resource Leadership Award to Dr. Bateman Ellison for her 30 years of demonstrated leadership in the development of future professionals in the industry. A thank you for her "pioneering efforts on behalf of the tourism workforce".
When Margaret retired from MSVU in 2005 she became an international tourist. Since 2010 she and her husband spend the year between Nova Scotia and Arizona. She has found interesting volunteer opportunities at home and abroad that draw upon her professional expertise.