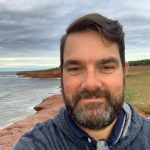 Dr. Danny Wadden
Assistant Professor
Marketing
Dr Danny Wadden
Assistant Professor
Marketing
Office: McCain Centre 405P
Phone: 902 457 6198
Fax: 902 445 2582
Email: Danny.Wadden@msvu.ca
Office Hours: Tuesday and Thursday 12:00 – 1:15 pm or available by appointment.
Qualifications:
BA (Saint Mary's University), BBA (University of Windsor), MBA (University of South Carolina), PhD (University of South Carolina)
Joined the Mount: 2013-2016 Term, 2016-2022 Sessional Instructor, 2022 full time instructor
Relevant Prior Work Experience:
Marketing Department, Saint Mary's University (2004-2013)
Courses Taught:
Principles of Marketing. Applied Marketing, Personal Selling and Sales Management, Consumer Behaviour, Direct Marketing, Retailing Management, Marketing Strategy and Management, Not for Profit Marketing, Advertising, Services Marketing, Marketing Research, International Marketing, Integrated Marketing Communications, Marketing Channels, Introduction to Business, Values in a Business Society, Organizational Topics, Human Resource Management, Labour Relations, Management Information Systems.
Research Interests:
Emotional reactions to service failure and recovery efforts, consumer guilt, psychological immunity in service interactions, creativity in marketing management, consumer choice processes.
Professional Projects and Activities:
Board of Directors (Teachers Plus Credit Union)
Sobey School of Business Learning Outcomes Initiative (Saint Mary's University)