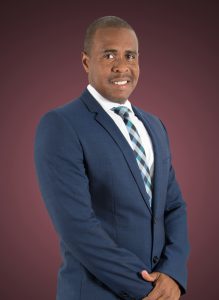 Dr. Arron Fraser
Assistant Professor
Accounting & Finance
Dr. Arron Fraser
Assistant Professor
Accounting & Finance
Office: McCain Centre 406L
Phone: 902 457 6136
Fax: 902 445 2582
Email: arron.fraser7@msvu.ca
Office Hours:  Available by appointment.
Qualifications:
Academic: Ph.D. In Management from Case Western Reserve University, MBA (Finance) University of Manchester,
Professional designations: Chartered Accountant – Fellow of the Association of Certified Chartered Accountant of the United Kingdom (FCCA) and Member of CPA Ontario (CPA, CGA), PROSCI Certified Change Manager.
Joined the Mount: 1st July, 2021
Relevant Prior Work Experience:
CEO of Power Producers & Distributors
Country Manager, Wartsila Operations Guyana Inc.
Accounting Manager, Wartsila Operations Guyana Inc.
Adjunct faculty at the University of Guyana in its School of Entrepreneurship & Innovation.
Courses Taught:
Cost Accounting, Financial Management, Portfolio Management, Managing Financial Institutions, Business Policy & Strategy and Entrepreneurship Opportunity Recognition. Arron will be teaching BUSI 2321 (Introductory Accounting), BUSI 3360 (Finance I) and BUSI 3361 (Finance II) at the Mount.
Research Interests:
Prosocial behaviors in business management, business models in emerging economies and the effect of technology on accounting and finance.
Academic Activities and Publications:
Conference Presentations:
Scardillo, A., Ames, J. B., Fraser, A. M., and McGovern, K (2020). Change is a Four-Letter Word. Engaged Management Scholarship Conference, Cleveland Ohio.
Fraser, A. M., (2019). The Mediating Effects of Entrepreneurial Self-Efficacy on Independent Subsidiary Initiatives. European Group of Organizational Studies (EGOS), Edinburgh Scotland.
Fraser, A. M., (2017). Entrepreneurial Subsidiary Top Managers: Factors Influencing Independent Subsidiary Initiatives. Society of Strategic Management Special Conference. Banff Alberta.
Fraser, A. M., (2015) Factors Influencing Compliance. Engaged Management Scholarship Conference. Baltimore Maryland.
Presenter at ASAC 20022 (Halifax) on 5th June. Paper presented: Alignment as a Manifestation of Untainted Partnership between Headquarters and Subsidiary. 
Professional Projects and Activities:
President of the Rotary Club of Garden City (Georgetown) 2020 to 2022
Council Member of The Chartered Accountants of Guyana since 2018.