What is coming up in 2022?
Lots of free Webinars!
Halifax Chamber of Commerce Events Calendar  for details.
Learning Passport Eligible. 
Halifax Chamber of Commerce Information and Offers
Mount students registered in the Business or Tourism Programs are considered members of the Halifax Chamber of Commerce and have access to information and great offers, including but not limited to:


November 2017
The Mount's Business Administration and Tourism and Hospitality programs are featured in the Business Voice – the Halifax Chamber of Commerce business magazine.
April 18, 2017
The Business and Tourism Department at Mount Saint Vincent University is making strides in efforts to give students every possible advantage. Dr. Peter Mombourquette, Chair and Associate Professor of the Mount's Department of Business Administration and Tourism, has reached an exciting new agreement on behalf of all Business and Tourism students: As of April 1st, 2017, students in these programs at the Mount will be members of the Halifax Chamber of Commerce and benefit from all the Chamber has to offer.
Agreement sees MSVU business students join Halifax Chamber of Commerce, Apr 21.
[Academica's Top Ten]
November 15 2019 Annual State of the Municipality with Mayor Mike Savage
Three students attended the luncheon today where they heard about the steady growth of the Halifax region, how ongoing work ensures that the upward trend continues, how the growth is creating new opportunities for young people and is attracting more people from more places to Halifax.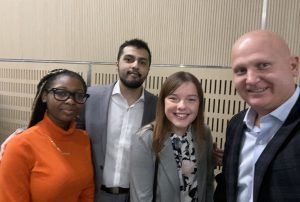 And as a bonus they got to meet the Mayor!
December 7 2018 Wonder Woman Workshop
The Business and Tourism Department was excited to share the Wonder Woman Workshop with two students this semester. They were able to experience a motivational and empowering event led by two female keynotes and an incredible panel filled with inspiring women who shared their knowledge on how to be your own Wonder Woman!

Wonder Woman Workshop - March 2 2018
Four of our students were able to experience this inspiring event which included two female-driven workshops, followed by an all-star panel of local, uplifting women who shared their experiences on success, careers and how a Wonder Women could have it all!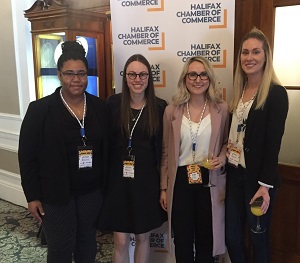 2017 Grow Halifax - May 17 2017
The Grow HALIFAX initiative aims to bring local entrepreneurs closer to the resources they need to overcome their barriers to organizational growth. It is an afternoon of networking with leaders from your business community.