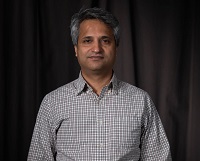 Dr. Ashwani Kumar
Associate Professor
PhD, University of British Columbia
Office: Seton 575
Phone: (902) 457-6731
Fax: (902) 457-4911
E-mail: Ashwani.Kumar@msvu.ca
Research and Teaching Interests
Curriculum Studies; International Curriculum Studies
Geography Education: Place-based Education; Social Studies Education
Holistic Education: Peace Education
Philosophy of Education
Background
My research and teaching focus on understanding the relationship among meditative inquiry, human consciousness, and education. Through my concept of curriculum as meditative inquiry, I urge educators to re-imagine the whole phenomena of education in a new light wherein the understanding of consciousness and its transformation form the core of educational experience. Specifically, understanding curriculum as meditative inquiry is based on four key principles:
Human consciousness is in conflict.
Education reflects and perpetuates the characteristic features of human consciousness.
Meditative inquiry is an existential approach to comprehend and transform human consciousness.
Understanding curriculum as meditative inquiry is a way to provide self-transformative educational experiences to students and their teachers.
Prior to entering UBC in 2007, where I completed my PhD under the guidance of Professor and Canada Research Chair William Pinar, I completed a Bachelor of Arts (Honors), Master of Arts, and Master of Philosophy in Geography as well as a Bachelor of Education and Master of Education from the University of Delhi in New Delhi, India. I also worked as a secondary social studies (Geography) schoolteacher for three years at Apeejay School, Pitampura in New Delhi.

I have published a book, Curriculum As Meditative Inquiry (Palgrave Macmillan, 2013), and several articles in peer reviewed journals including Asia Pacific Journal of Education, Education Review, The Journal of Critical Education Policy Studies, and Transnational Curriculum Inquiry. Contemporary Authors published a biographical entry about me that you may access here.

Book
Kumar, A. (2013). Curriculum As Meditative Inquiry. New York: Palgrave Macmillan.

Book Chapters
Kumar, A. (2014). Meditative Education: A Proposal for the Existential Renewal of Teacher Education in the 21st Century. In Mary Jane Harkins & Zhanna Barchuk (Eds.), Conversations with International Teacher Educators: Teaching in a Global World [E-Book]. Halifax: Faculty of Education, Mount Saint Vincent University

Kumar, A. (2011a). Curriculum studies in Brazil: An overview. In William F. Pinar (Ed.), Curriculum studies in Brazil (pp. 27-42). New York: Palgrave Macmillan.

Kumar, A. (2011b). Curriculum studies in Mexico: An overview. In William F. Pinar (Ed.), Curriculum studies in Mexico (pp. 29-48). New York: Palgrave Macmillan.

Journal Articles
Kumar, A. (2013). Education as a political tool in Asia: An essay review. Asia Pacific Journal of Education, 33(2), 222-234. [Invited essay review]

Kumar, A. (2012a). Curriculum studies in Brazil: An overview. Journal of the American Association for the Advancement of Curriculum Studies, 8(1).

Kumar, A. (2012b). Indian social studies curriculum in transition: Effects of a paradigm shift in curriculum discourse. Transnational Curriculum Inquiry, 9(1), 20-53.

Kumar, A. (2010). A synoptic view of curriculum studies in South Africa. Journal of the American Association for the Advancement of Curriculum Studies, 6.

Kumar, A. (2009). Social studies in the postmodern world: An essay review. Education Review: A Journal of Book Reviews, 12(10).

Kumar, A. (2008a). A review of the book Social education in Asia: Critical issues and multiple perspectives. Education Review: A Journal of Book Reviews. [Invited book review]

Kumar, A. (2008b). A review essay of the book Neoliberalism and education reform. The Journal of Critical Education Policy Studies, 6(2), 218-236. [Invited essay review]

Video Presentations
Kumar, A. (2014). Awareness as Meditative Inquiry: Broadening and Deepening the Concept of "Awareness" in Educational Theory. Paper presented at Second International Seminar on Philosophy of Education Azim Premji University, Bangalore, India.

Kumar, A. (2013). Curriculum As Meditative Inquiry: A Symposium. Mount Saint Vincent University, Halifax, NS.

Kumar, A. (2013, May). Curriculum as Meditative Inquiry. Invited speaker at May Gathering of Krishnamurti Educational Centre in Ojai, California.

Kumar, A. (2012). Education as meditative inquiry, Brockwood Park School, Bramdean, Hampshire, UK.

Non-refereed Publications
Kumar, A. (2014). Curriculum as meditative inquiry. The Meditative Mind, Annual May Gathering of Krishnamurti Educational Centre, Ojai (California) proceedings. Available online at: http://krishnamurti-america.blogspot.ca/2014/01/curriculum-as-meditative-inquiry.html
Kumar, A. (2012). Fundamentals of a meditative education. Working Paper Series, D. S. Kothari Centre for Science, Ethics, and Education, University of Delhi, New Delhi, India.

Kumar, A. (2011). The question of awareness in curriculum theory. Education & Explorations: A UBC Faculty of Education Conference proceedings. Available online at: https://circle.ubc.ca/handle/2429/35885

Kumar, A. (2010). Art of awareness. Conversations on Curriculum & Pedagogy, 3, 19-22.

Kumar, A. (2008a). Place of critical self-awareness in social education for revolution. Rouge Forum Conference proceedings. Available online at: http://richgibson.com/rouge_forum/2008/placecritical.htm

Kumar, A. (2008b). Neoliberalism and education reform in North America and United Kingdom. Symposium discussant at the annual meeting of Canadian Society for the Study of Education, Vancouver, BC. Available online at: http://richgibson.com/rouge_forum/CSSE2008/KumarCSSE2008.htm

Refereed Conference Presentations
Kumar, A. (2016, February). Pedagogical Transformation through Imagination: Significance of Maxine's Green's Work. A paper presented at National Conference on Teacher Education: Issues and Challenges, New Delhi, India.

Kumar, A. (2015, June). Education as the Meditative Study of Consciousness: Rediscovering the Potential of Teacher Education. A paper presented at the annual meeting of Canadian Society for the Study of Education, Ottawa, ON.

Kumar, A. (2015, June). On the Nature and Purpose of Education: An Introduction to the Work of J. Krishnamurti. A paper presented at the triennial meeting of International Association for the Advancement of Curriculum Studies, Ottawa, ON.

Kumar, A. (2015, June). Essentials of a Transformative Education: The Life and Work of James Macdonald. A paper presented at the triennial meeting of International Association for the Advancement of Curriculum Studies, Ottawa, ON.

Kumar, A. (April, 2015). Intellectual Histories, Present Circumstances. Symposium panelist at the annual meeting of American Association for the Advancement of Curriculum Studies, Chicago, IL.

Kumar, A. (May, 2014). Awareness as Meditative Inquiry: Broadening and Deepening the Concept of "Awareness" in Educational Theory. Paper presented at Second International Seminar on Philosophy of Education Azim Premji University, Bangalore, India. https://www.youtube.com/watch?v=9125L7iH8NI&index=25&list=PLVI4qkjTdM71audZ6VOh-GmtRuMmJUEom

Kumar, A. (November, 2013). Changing Canadian Landscapes: Introducing Contemplative Education in Canadian Higher Education. Symposium panelist at the fifth annual Association for Contemplative Mind in Higher Education Conference, Amherst, MA.

Kumar, A. (2013, June). Understanding the Life-World of a Meditative Curriculum. A paper presented at the annual meeting of Canadian Society for the Study of Education, Victoria, BC.

Kumar, A. (2013, April). On the Significance of Inquiry, Relationship, and Academic Freedom in Educational Experience: A Study of Brockwood Park School. A paper presented at the annual meeting of American Association for the Advancement of Curriculum Studies, San Francisco, CA.

Kumar, A. (2012, August). The art of awareness. Paper presented at Learning Conference, Institute of Education, University of London, London, UK.

Kumar, A. (2012, April). Learning as meditative inquiry. Paper presented at the annual meeting of Emergent Learning: Turning Tides in 21st Century Education, Halifax, NS.

Kumar, A. (2012, April). Consciousness, meditative inquiry, and curriculum. Paper presented at the annual meeting of American Association for the Advancement of Curriculum Studies, Vancouver, BC.

Non-refereed Conference and Invited Presentations
Kumar, A. (2016, May). Significance of Dialogue in a Creating a Community of Learners. Invited speaker at MSVU Second Annual University Preparation PD Day organized by International Education Centre, Mount Saint Vincent University, Halifax, NS.

Kumar, A. (2016, March). Dialogue as inquiry. Guest lecture at the Central Institute of Education, University of Delhi, New Delhi, India.

Kumar, A. (March, 2016). Holistic education has nothing to do with religious indoctrination. Invited speaker at Bharat Ratan Dr. B. R. Ambedkar University, New Delhi, India.

Kumar, A, Doyle, S., Macleod, N., Marble, C., & Philips, E. (2015, August). Meaning and significance of holistic education. Symposium organizer and panelist at The 3rd Annual Celebration of Teaching and Learning, Mount Saint Vincent University, Halifax, NS.

Kumar, A. (2014, November). Symposium panelist for the book launch event of
Mary Jane Harkins & Zhanna Barchuk's (Eds.), Conversations with International Teacher Educators: Teaching in a Global World at Mount Saint Vincent University, Halifax, NS.

Kumar, A., Cosgrove, M., Doyle, S., Scott, J., & Stoffman, H. (2014, October). Meditative living: An inner approach to well-being. Symposium organizer and panelist at Counselor Symposium, Mount Saint Vincent University, Halifax, NS.

Kumar, A. (2014, July). Education as Meditative Inquiry. Invited speaker at Faculty of Education of McGill University, Montreal, Quebec.

Kumar, A. (2014, April). The True Responsibility of a Teacher. Invited Speaker at Department of Education, Vasanta College for Women, Varanasi, India.

Kumar, A. (2014, March). Curriculum as Meditative Inquiry. Invited speaker at the School of Educational Studies, Bharat Ratan Dr. B. R. Ambedkar University Delhi, New Delhi, India.

Kumar, (2014, March). A Dialogue on Meditative Inquiry. Invited speaker at the School of Educational Studies, Bharat Ratan Dr. B. R. Ambedkar University Delhi, New Delhi, India.

Kumar, A. (2014, March). Significance of Meditative Inquiry in Educational Experience. Paper presented at Education and the Significance of Life conference: A conference organized by D. S. Kothari Centre for Science, Ethics, and Education, University of Delhi, New Delhi, India.

Kumar, A. (2014, March). Essentials of a Meditative Education: A Study of Brockwood Park School. Paper presented at Education and the Significance of Life: A conference organized by D. S. Kothari Centre for Science, Ethics, and Education, University of Delhi, New Delhi, India.

Kumar, A. (2013, May). Curriculum as Meditative Inquiry. Invited speaker at May Gathering of Krishnamurti Educational Centre in Ojai, California.

Kumar, A. (2012, December). Life-world of a meditative curriculum: Opportunities and challenges. Guest lecture at the Central Institute of Education, University of Delhi, New Delhi, India.

Kumar, A. (2012, December). Crisis of education is the crisis of consciousness. Guest lecture at Lok Shikshak Manch (Public Teachers Forum), New Delhi, India.

Kumar, A. (2012, February). Understanding curriculum as meditative inquiry. Presentation at the Faculty Research & Scholarship Dialogue Series, Mount Saint Vincent University, Halifax, NS.

Kumar, A. (2011, April). The question of awareness in curriculum theory. Paper presented at Education & Explorations: A UBC Faculty of Education Conference, Vancouver, BC.

Scholarly Events

Education and the Significance of Life (Conference)
In March 2014, Professor Meenakshi Thapan, Dr. Anuradha Sharma, and I organized a conference on the above theme at University of Delhi during my appointment as a Visiting Fellow (Honorary) (Mid-February to June, 2014) at the D. S. Kothari Centre for Science Ethics and Education. This conference focused on holistic and alternative educational perspectives including the works of J. Krishnamurti.

Curriculum As Meditative Inquiry: A Symposium
On October 7, 2013, I organized a symposium on my book—thanks to an Aids to Scholarly Publications Award from MSVU—to engage the faculty and students at the Mount to consider the fundamental questions I have posed in my book about a creative vision of education, one in which learning about oneself and one's relationships to people, nature, and ideas become the core of the educational process.

Four individuals from the Mount community were part of this symposium: Drs. Ardra Cole (Chair), Mary Jane Harkins, Susan Walsh, and Mr. Michael Cosgrove (a public school teacher in Halifax and currently a Master's student at the Mount). This event was video recorded and can be watched here: https://www.youtube.com/watch?v=4HgOvkpevJE&feature=youtu.be&t=1s

Interviews
Interview regarding my research at Brockwood Park School published in The Brockwood Observer (2012). Available online at: http://brockwood.org.uk/pdf/observer_autumn_winter2012.pdf

Interview published in The Interpreter (2011) regarding my research and educational experience as a doctoral student at The University of the British Columbia.

Professional Presentations/Workshops

Invited speaker and facilitator at "What is Awareness?" workshop conducted by Krishnamurti Educational Centre of Canada, Victoria, BC. (2016)

Invited consultant for developing an elective course on Curriculum Theory and Practice, School of Educational Studies, Bharat Ratan Dr. B. R. Ambedkar University, New Delhi, India. (2016)

Invited speaker and facilitator at "Living as Meditative Inquiry" workshop conducted by Krishnamurti Educational Centre of Canada, Victoria, BC. (2015)

Invited speaker and facilitator at "Art of Awareness" workshop conducted by Krishnamurti Educational Centre of Canada, Victoria, BC. (2014)

What is true education? Invited speaker and dialogue facilitator at Teachers' Study Meet, Rajghat Besant School, Varanasi, India. (2014)

Introduction to J. Krishnamurti and his philosophy of life and education. Invited dialogue co-facilitator at Krishnamurti Study Centre (with Mukesh Gupta, Coordinator of the Centre), Rajghat, Varanasi, India. [This session provided an introduction to a group of students and their teachers from Finland.] (2014)

Why cannot we think together? Invited dialogue participant at Krishnamurti Study Centre, Rajghat, Varanasi, India. (2014)

Why do I react and get hurt? Invited dialogue facilitator (with Mr. Dubey) at Culture Class, Rajghat Besant School, Varanasi, India. (2014)

My existential questions: A dialogue. Invited dialogue facilitator at Krishnamurti Study Centre, Rajghat, Varanasi, India. (2014)

Education at Brockwood. Invited speaker in Dr. Mary Jane Harkins' Graduate Education Project (GEDU 6140) course in the Faculty of Education at MSVU. (2013)

What is your real question? Invited dialogue facilitator at Krishnamurti Educational Centre of Canada, Victoria, BC. (2013)

Education as meditative inquiry, Brockwood Park School, Bramdean, Hampshire, UK. Video available online at: http://www.youtube.com/watch?v=qKPxp7FtpBU (2012)

Invited Reviewer for
Routledge Studies in Curriculum Theory (Series Editor: William Pinar); Asia Pacific Education Review; Journal of New Brunswick Studies/Revue d'études sur le Nouveau-Brunswick; Journal of Curriculum Theorizing; Sage Open; Prospects: Quarterly Review of Comparative Education. (Prospects is a UNESCO publication.); Curriculum Inquiry; and Canadian Society for the Study of Education annual conferences.

Committee Work

University Committees:
Senate Committee on Teaching and Learning (SCOTL)
Chair of SCOTL since September 2015
Committee on Research and Publications
Committee on President's Conference Fund

Departmental Committees:
Departmental Review Ethics Board

Administrative Responsibilities:
Vetted applications for hiring part-time instructors for two graduate level courses, namely, Inquiry into Contemplative Education and Restorative Approaches in Education.
Acting Coordinator of Curriculum Studies Program, Faculty of Education

Other Contributions:
Faculty Advisor of ASCD's (formerly Association for Supervision and Curriculum Development) Student Chapter at MSVU.

Undergraduate and Graduate Courses Taught
EDUC 5609 (01) Holistic Education (Special Topics)
EDUC 5381 (01) Curriculum Practices in Secondary Social Studies Part I
EDUC 5329/6 Advanced Studies in Philosophy of Education
EDUC 5392 (01, 02) Principles and Practices in Secondary Education

GCRD 6356 (01) Holistic Education (Special Topics in Curriculum Studies)
GCRD 6301 (01) Foundation of Curriculum Studies I
GCRD 6302 (01) Foundation of Curriculum Studies II

Graduate Thesis Supervision
Reem Almahmudi, Master of Education (Curriculum Studies)
Topic: Understanding the meaning and significance of creativity through the life histories of Saudi Arabian women studying in the Faculty of Education at Mount Saint Vincent University

Supervision of Directed Studies:
GEDU 6151 02 Exploring the Meaning and Significance of Creativity in Education; Reem Almahmudi

GEDU 6151 02 Steinbeck and Krishnamurti: A Study of Self-Discovery and Learning; Kristen Amiro (Curriculum Studies)

GEDU 6151 02 Educational Experiences of Saudi Arabian Students in North American Universities: Challenges and Opportunities; Fahad Alrufai, Master of Education (Curriculum Studies)

GEDU 6151 02 Holistic Framework for an Alternative School in Nova Scotia; Nancy MacLeod, Master of Education (Curriculum Studies)

GEDU 6151 02 Multiple Intelligences & Meditative Inquiry: Mindfulness in the Classroom ; Shaun Doyle, Master of Education (Curriculum Studies)

GEDU 6151 (01) A Study of the Psychological, Philosophical and Educational Ideas of J. Krishnamurti; Hart Stoffman, Master of Education (Educational Psychology)

GEDU 6151 02 Awareness in the Classroom: A Study of Dialogue as a Pedagogical Practice; Shaun Doyle, Master of Education (Curriculum Studies)

GEDU 6151 (01) Understanding Racism through Meditative Inquiry; Amy Weedon, Master of Education (Educational Foundations)