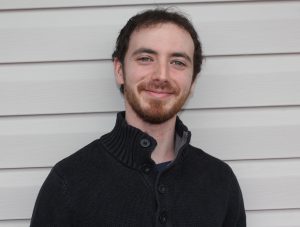 Dr. Adrian M. Downey
Assistant Professor
Office: Seton 419
Phone: (902) 457-6714
Fax: (902) 457-4911
E-mail: Adrian.Downey@msvu.ca
Bio:
Adrian M. Downey holds undergraduate degrees in music and education from Bishop's University (2012; 2013), a Master of Arts in Education focused on curriculum theory from Mount Saint Vincent University (2017), and a PhD in Educational Studies focused on the foundations of education and curriculum theory from the University of New Brunswick (2020).
Teaching:
Graduate Courses
Indigenous and Decolonizing Studies in Education (Special Topic)
Foundations of Curriculum Studies II
Undergraduate Courses
Social and Cultural Contexts of Teaching and Learning
Interdisciplinary Foundations of Education
Indigenous Knowledge and The Curriculum
Philosophy of Education
Research and Supervision Areas:
Broad Areas
Curriculum Theory
Foundations of Education
Indigenous Education
Specific Foci
Critical Literacies
Currere and Autobiography
Death and Dying Education
Decolonization
Identity and Privilege
Indigenous Knowledges
Métissage
Music Education
Poetic Inquiry
Posthumanism
Spirituality in Education
Publications (Abbreviated):
Downey, A. (2021). Posthuman embodiments and overuse injuries amid COVID-19. The Currere Exchange Journal, 5(1), 13-21.
Downey, A., & Sagy, G. (2020). Love songs: conversations with the Earth and each other. Artizein, 5(1), 147-168.
Downey, A. (2020, August). Book Review: Kiskajeyi—I am ready: A hermeneutic exploration of Mi'kmaq komqwejwi'kasikl poetry. Dawnland Voices, 9.
Downey, A., & McGuire, M. (2019). Metaphors beyond the duet: A reflection on shared teaching. Canadian Music Educator, 61(1), 12-17.
Downey, A., Bell, R., Copage, K., & Whitty, P. (2019). Place-based readings toward disrupting colonized literacies: A métissage. In education, 25(2), 39-58.
Downey, A. (2019). Mindset and meditative inquiry. Journal of Educational Thought, 52(2),130-142.
Downey, A. (2019). Revisiting Bucket Truck: Locally engaged public intellectuals. The Canadian Journal for New Scholars in Education, 10(1), 89-98.
Downey, A. (2018). The metamorphic, the subtle, and the awkward: Three thoughts on Indigenization. Proceedings of the Atlantic Universities' Teaching Showcase, 22, 1-5.
Downey, A. (2017). Listening for reconciliation and beyond. Proceedings of the Atlantic Universities' Teaching Showcase, 21, 67-72.