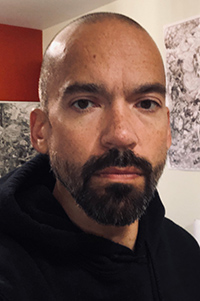 Dr. Alex Khasnabish
Professor and Department Chair
Contact
Office: Evaristus Hall 451
Phone: (902) 457-6565
E-mail: alex.khasnabish@msvu.ca
Website: alexkhasnabish.com
Background
PhD, Anthropology, McMaster University
Masters of Arts, Anthropology, McMaster University
Bachelor of Arts (Honours), English and Anthropology, McMaster University
Teaching
For the current academic year (2023-2024), I will be teaching SOAN 1502 (Questioning Society), SOAN 3511 (Qualitative Approaches) and SOAN 3554 (Race and Racism). In addition to working with students conducting honours theses at the Mount, I am also an adjunct member of the Department of Sociology and Social Anthropology and International Development Studies at Dalhousie University where I work with undergraduate and graduate students on their theses.
Research
An anthropologist by training, my research focuses on the radical imagination, radical politics, social change, social justice, social movements, and social and political theory. In addition to numerous journal articles and book chapters, I am the author of Zapatistas: Rebellion from the Grassroots to the Global (2010, Zed Books) and Zapatismo Beyond Borders: New Imaginations of Political Possibility (2008, University of Toronto Press), co-editor of What Moves Us: The Lives and Times of the Radical Imagination (with Max Haiven, 2017, the Radical Imagination Project, Fernwood Publishing, and Upping the Anti) and Insurgent Encounters: Transnational Activism, Ethnography, and the Political (with Jeffrey Juris, 2013, Duke University Press), and co-author of The Radical Imagination: Social Movement Research in the Age of Austerity (with Max Haiven, 2014, Zed Books).
For more information about my research, teaching, and writing, please go to alexkhasnabish.com.