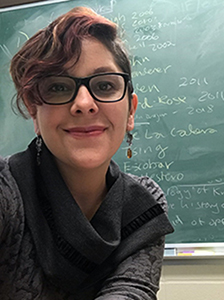 Dr. Columba González-Duarte
Assistant Professor
Contact
Office: EVR 441
Phone: (902) 457 6715
Email: columba.gonzalez@msvu.ca
Website: www.columbagonzalez.com
Current teaching
For the 2021/2022 academic year, I will be teaching Questioning Society (SOAN 1502), Introduction to Social Theory (SOAN 2500), Making a Living (SOAN 2531) and Selected Topics/Senior Seminar (Socionature – SOAN 3592/4590). My teaching engages students in decolonial education through a lens of human-animal interactions.
Research
I am a sociocultural anthropologist interested in human-nature relations in North America. For my doctoral research, I explored how different communities of Canada, Mexico and the United States engage with the at-risk monarch butterfly migration. My current work connects the decline of monarch butterflies with other social and ecological problems that North Americans face—from climate change to agri-food industry.
Publications
González-Duarte, Columba. 2021. "Butterflies, Organized Crime, and ''sad Trees:" A Critique of the Monarch Butterfly Biosphere Reserve Program in a Context of Rural Violence, World Development", Https://Doi.Org/10.1016/j.Worlddev.2021.105420. World Development.
González-Duarte, C. (2018). Resisting Monsanto: Monarch butterflies and cyber-actors. In Wolf, Steven & Bonanno, Alessandro (Eds.), Resistance to the neoliberal agri-food regime: A critical analysis (pp. 165–179). Routledge.